Kitchen Renovations – How to ensure a smooth renovation that won't break the bank
Getting started…
The median house value for your area is PRICE
Sorry, we do not have data for that area.
or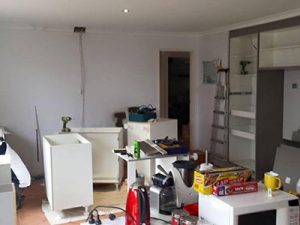 How much will my kitchen renovation cost? It's probably the first question asked by any home owner preparing for a renovation, and rightly so, as it's certainly a very important factor in the decision-making process. Unfortunately, the answer isn't so simple when it comes to custom designed kitchens because the fact of the matter is, the cost of your kitchen renovation has many aspects that can substantially alter the cost, including the size of the area, whether you're changing the layout of the area entirely or sticking to the current footprint, the materials you select and whether you will be replacing appliances or keeping your existing ones, just to name a few.
It's also important to consider why you're renovating your kitchen when determining your budget. If you're remodelling a kitchen in an investment property and intend to rent the home out to tenants, then a lower budget kitchen renovation will probably assist in yielding the maximum rent without maximum cost. However, if you are renovating your home with the intent to sell in the future, then it's important to note that experts consider the kitchen one of the most important renovations to undertake if you want to add value to your home and the amount spent on the renovation is directly linked to the value of the home. As a rule, most property experts would suggest that you allow for a budget of 3-6% of the home's value for a complete kitchen renovation.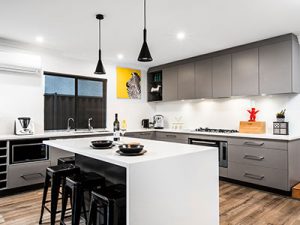 Obviously, this is an indicative guide only and your personal selections will ultimately decide the overall cost. Custom designed kitchens will always have good quality bones – that is, the cabinets will always be sturdy and well built – so the cost generally lies in two categories: cosmetic finishes such as material selections and appliances; and required building works. Every kitchen renovation will require a plumber and electrician to disconnect services at the beginning of the renovation and reconnect them again once the renovation is complete but structural changes, moving services or appliances, plastering, painting, and flooring all carry a significant cost that is often overlooked. It's also important to ensure that you have qualified and reliable tradespeople who are licensed to do the work.
Don't Forget the Trades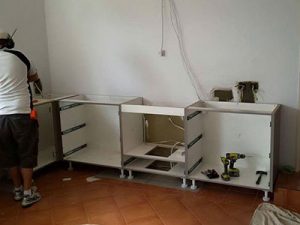 It is one of the most commonly overlooked aspects of a kitchen renovation, but arguably one of the most important. As a minimum requirement, you will need licensed contractors to disconnect and reconnect services such as your electricity and gas supply – and your renovation generally can't commence until this has happened! But what about other trades? If you're undergoing an extensive renovation, such as removing walls, moving doorways or window openings, or even just changing the overall footprint of your kitchen, try to think of the knock-on effects each proposed change may have and what trades would be required. Removing a wall may not only mean having someone demolish the wall, but could also require structural support beams to be installed, plastering, and painting of the wall, and patching the floor. Each kitchen will have very different trade requirements so it's best to consult a professional and get a detailed scope of works and indicative costs before you start your renovation. At Flexi, we rely on Scope Group WA as our one stop shop for trusted trades. Scope Group can provide detailed quotes and will organise and project manage all trade requirements for you.
Add Value Without Blowing the Budget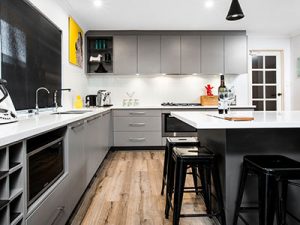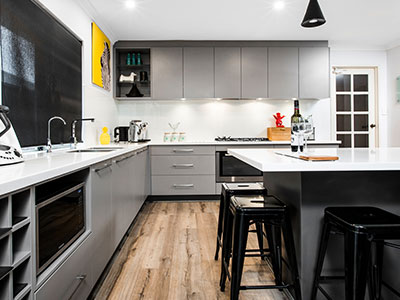 At Flexi, we try to cater for all budgets without compromising on quality. We have helped our clients with small kitchen renovations, such as pantry fitouts and overhead cabinets to improve functionality and we have project managed large renovations where the kitchen has been relocated to a completely different area of their home. Regardless of the size of the project, Flexi provide only the best quality custom designed, made to measure kitchen's, that are installed by qualified and experienced tradespeople. To assist you with your budget planning, below is a brief guide of what is included within the Flexi kitchen ranges. Use our kitchen budget calculator to help you determine a suitable budget for your kitchen renovation.
Renovator Range
Our renovator range is perfect if you are just looking to "freshen up" your existing kitchen or for investment properties. The renovator range still has high quality inclusions such as German made soft close drawers and doors, durable Polytec or Formica cabinets with ABS edging and post-form or Corian benchtop. You may be able to get some appliances included in your renovation, depending on the requirements and preferences you have.
Entertainer Range
Along with the standard high-quality Flexi inclusions, you also have the potential to upgrade certain choices including the possibility of gloss or textured finish cabinet doors and drawers, engineered stone benchtops and a glass splashback. Many people also find that they can include some appliance upgrades and Flexi have a great range of quality appliance packages that will add value without excessive costs.
Ultimate Range
The Ultimate Range of Flexi kitchens allows for premium selections, such as 40mm engineered stone tops, Bella ™ porcelain splashbacks, vinyl wrapped cabinets and the addition of cabinet accessories such as lazy-susan's and pull-out pantries. You could also have the option to select from higher quality appliances but remember that a cooktop alone can cost anywhere between $1,000 – $10,000 depending on the brand.
Trust the Experts
According to a recent survey by Houzz, over 90% of Australians hired professionals for their kitchen renovations – and with good reason! Having expert advice during the planning stages and qualified trades completing the installation can drastically reduce your chances of unforeseen costs that blow the budget. We've all heard the horror stories of people who attempta DIY project and ended up paying substantial amounts to get mistakes and mishaps corrected. A reputable, experienced kitchen designer, in conjunction with a project management specialist, will have the knowledge and industry-insight to ensure a smooth renovation and reduce the possibility of unplanned costs arising. Flexi can assist you every step of the way throughout the renovation process, and in conjunction with the project management team at Scope Group WA, can provide an all-inclusive, whole kitchen renovation from the demolition and removal of your existing kitchen, through to cooking your first roast, including all required trades.