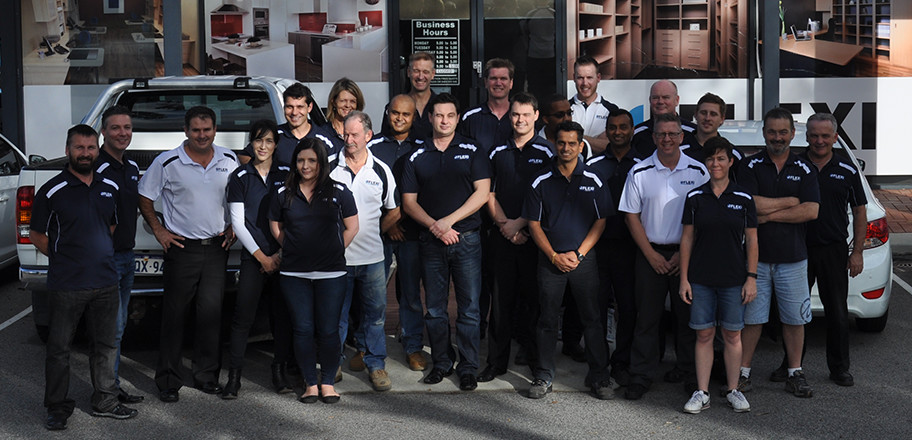 Our Vision
Flexi Home Storage Solutions has been designing, building and installing beautifully functional solutions for the people of Perth since 2001.  Our vision is to be the most respected name in the home renovation industry.  We aim to achieve this by listening to our customers, providing them with a clear kitchen renovation process and ensuring that we understand all of their needs through innovative and beautiful design.
Attracting the best craftsmen
Directors Craig Teede and Kelvin Mansfield continue to invest in their staff to strive to be the work place that develops the best people in the industry and to be the company of choice for our employees who are proud of what they do.  This ensures that Flexi delivers a product and service that exceeds all customer expectations.
Quality kitchens at a competitive price
We believe every customer deserves the personal touch.  That is why we arrange a no obligation, at home consultation during which our designers will talk to you about your kitchen dream, measure up the space and take you through the many kitchen cabinetry styles and layouts that would deliver your dream solution.
We then invite you to one of our showrooms to inspect our quality and make your final choices where we will present you with a full 3D representation of your new dream kitchen which has been fully costed to the last screw and provide a project timetable that will keep you fully informed throughout the renovation.
To deliver the best result to you we have and continue to invest in our people and the latest technology in the areas of design, workflow, quality control and production.
Our customers know that a Flexi kitchen is one that they can rely on from start to finish.
Professional installation as standard
Unlike many companies, the installation of your premium kitchen is included in the price.  Using our own team of experienced, trusted installers means that we can guarantee the quality of your kitchen from the first design idea to the final fitting in your home.