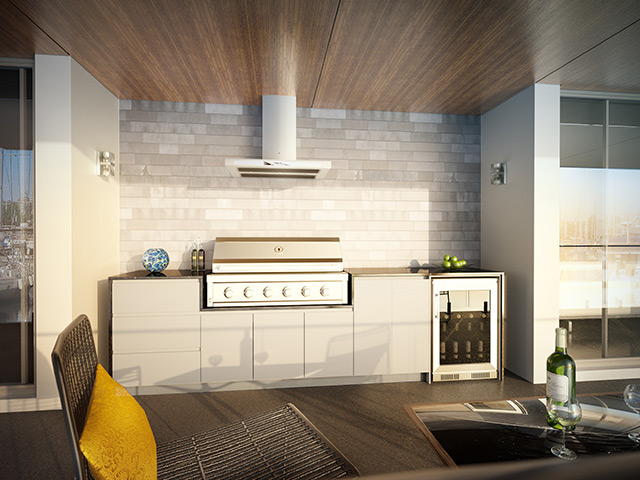 Here we are living in this beautiful part of the world, enjoying an awesome lifestyle with outdoor kitchens and amazing weather.
Living in Perth, WA we are very fortunate to have access to many options when it comes to buying the perfect home. Some of us may choose to live in the inner city, some of us prefer the suburbs, coast, rural or even in the bush.
With many varied lifestyle choices to explore, one thing they all have in common, is the love for entertaining with family and friends, and of course the great Aussie BBQ.
Outdoor kitchens are definitely trending right now, and about time.
Whether you're into an outdoor pizza oven, a barbeque with all the wiz bang extras, or you simply just do not want to make a big mess inside when the unexpected hordes arrive to be fed and watered, cooking outdoors makes a lot of sense.
Cooking outside is much more pleasant than being stuck inside four walls while your guests are outside catching up on all the latest goss.
Flexi Alfresco Kitchens In Perth
If you are looking for a beautifully functional outdoor kitchen for your home, then the people you need to have a chat with are the team from Flexi.
The team from Flexi will arrange to meet you at your home where they will chat to you about what your specific needs are and then take exact measurements of the space that will become your gorgeous new Alfresco kitchen.
This is a great opportunity to discuss any storage ideas you may have or anything special you would like to include to add your own personality to the project.
You will be best prepared if you have a written list of the things you must have included as well as a list of a couple of things that are not "must haves" but would be a bonus if you could include them.
Flexi Kitchens are one of Perth's most trusted teams when it comes to designing, building and installing your dream outdoor kitchen – and they are now offering a range of stunning, ready-to-install Alfresco Kitchens.
Ideal for the WA lifestyle, an outdoor kitchen is the perfect way to enhance your home, so contact them today on (08) 9301 4200.
March 7, 2019