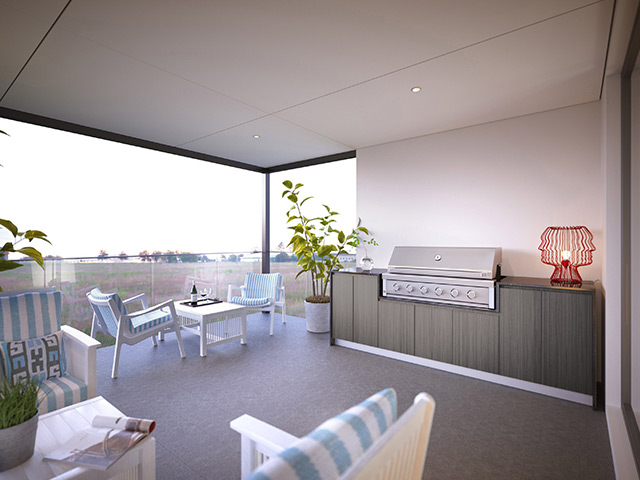 When it comes to Alfresco kitchens in Perth, it doesn't matter what the weather is like.
In summer, entertaining family and friends outdoors while keeping an eye on the kids in the pool is so easy, when everything you need is right there without the need to leave the area to go indoors to get food and drinks.
The constant opening and closing of the screen doors is a nuisance for parents who are trying to prevent the insects from getting indoors, so it makes sense to have everything you need for meal preparation, serving and clean up, all conveniently located in your purpose built Alfresco kitchen.
In winter, cafe blinds or louvered shutters can be used to keep out the weather, while you enjoy a cosy get together around the outdoor fireplace.
An outdoor fireplace is a great addition to your Alfresco kitchen area, providing warmth that allows you to entertain outside in the Alfresco area in the colder winter months.
How cool is that for the kids, they do not have to wait to go camping to enjoy toasted marshmallows around the fire.
Multi Purpose Alfresco Kitchens Perth
With Easter holidays coming up soon, the kids will be wanting to do some fun stuff, so why not save yourself the effort of loading up the car and joining the traffic convoy with the countless other families heading to the same place, with the same flies and the same loos that do not have any paper!
Why not choose to relax at home instead……..it is so much easier and without all the stress of driving in heavy traffic with the maniacs………you know what I mean!
The kids will be happy, as long as there is plenty of food, drinks and entertainment.
What better entertainment than "Movie Time".
Setting up a big screen TV outdoors is a great idea, not only useful for entertaining the kids outside, but it is also perfect for those all important football final get togethers, where the noise levels become a tad loud, the dog is choking on somebody's half eaten sausage roll………OMG it's Groundhog day again.
For stress free entertaining at home, "take it outside".
Flexi Alfresco Kitchens Perth
Flexi Kitchens are one of Perth's most trusted teams when it comes to designing, building and installing your dream outdoor kitchen – and they are now offering a range of stunning, ready-to-install Alfresco Kitchens.
Ideal for the WA lifestyle, an outdoor kitchen is the perfect way to enhance your home.
The team from Flexi will work with you to select the style and fittings that suit your space from their range of stylish, European-made models with customisable features such as:
Four model layout options
Six modern door colours
Two granite benchtop finishes
A range of optional appliances including sink, tap, rangehood, bbq and more!
Each Alfresco Kitchen design comes with:
Sleek European hinges
Soft close drawers and doors
Easy-clean granite benchtops & granite slab ends
Treated foam-fill carcase specific to outdoor use in the WA Climate
Compact laminate doors & drawer fronts
Pre drilled for gas line installation
Choose to DIY install or have their local team of kitchen experts professionally install your new outdoor kitchen design for you. For more information contact Flexi on (08) 9301 4200.
March 26, 2019