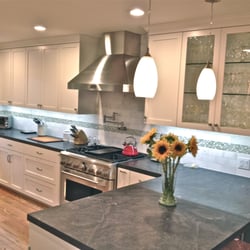 Once you've decided on the design for your new Perth kitchen renovations, it's time to pick colours and materials.
Many people in Perth understand that the kitchen benchtop design is not only a showpiece for family and friends, it is also the main area for all the food prep, plating up and a great buffet table as well.
Your kitchen benchtops need to be durable to withstand a lot of traffic.
Kitchen Benchtop Options For Your Perth Kitchen Renovations
Flexi Perth Kitchens look at some of the different kitchen benchtop materials available to assist you in the decision making process for your kitchen renovation design.
Post-Form Kitchens and Benchtops
A post formed bench top is a kitchen benchtop that is covered in laminate, with a variety of edge styles available.
This is a popular design choice for those who are budget conscious or for those with investment properties.
Post formed kitchen benchtops are considered the starting point when it comes to kitchen benchtop materials, they come in a wide variety of laminate design and colours, and can be done in a gloss finish for a more stylish design.
Whilst post formed benchtops aren't considered to be as long wearing as stone benchtops, with proper care and maintenance, they can last for many years.
---
Corian®
Solid surface or acrylic kitchen benchtops are becoming more popular in Perth these days, with its stone-look and feel and multiple advantages.
Flexi Kitchens use DuPoint™ Corian®, the original solid surface brand. For those that haven't heard of Corian® before, it is essentially a man-made mixture of acrylic resin and natural minerals, that create a beautiful, seamless, stone-look kitchen benchtop.
Seamless Design – Corian® is ideal for large kitchen benchtops, waterfall ends, upstands and unique spaces as it can be moulded and joined together without any seams to look like one piece.
Stain Resistant kitchens – Unlike other kitchen benchtops, Corian® is non-porous and so spills won't permanently damage the surface. No more red wine or beetroot stains.
Formable – It can be used in a variety of applications and because of the unique way it is manufactured and installed, the possibilities are endless in terms of size, style and shape.
Repairable – Most accidental damage to your Corian® kitchen benchtop can be repaired on site, without replacing the entire benchtop.
There is a 10 year warranty if your Corian® benchtop is installed by a certified fabricator and installer.
Essastone®
It goes without saying that engineered stone is one of the most popular benchtop materials being used these days.
Essastone®, is a a product of Laminex® Australia is an engineered stone made from up to 95% natural quartz with a wide palette of contemporary colours.
Essastone® can be used for a variety of functions, including in your alfresco area, kitchen, bathroom and laundry, as quartz is one of the hardest natural materials on Earth, this product is highly scratch resistant, and unlike many other natural stone surfaces, does not require sealing or special cleaning products.
Essastone® is unaffected by most household chemicals, making it easy to care for and is backed by a 15 year limited warranty.
At Flexi Perth, every beautifully functional kitchen design we produce is custom designed, made to measure and fully installed.
If you want some ideas for your , or to look at our range of products for your new kitchen call us today on (08) 9301 4200 to find out how we will make your renovation a smooth process.
April 28, 2017