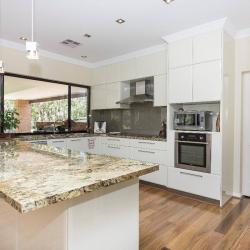 Before rushing into selling your home in Perth because it is becoming outdated, why not consider kitchen and bathroom renovations instead, after all, if you are well settled in your current home with a great neighbourhood, established networks of friends, schools and shops, why give it all up to start again in a different house?
If you are out growing your residence or you feel that your house is dated and unappealing, there are some very simple steps that you can take to rectify that problem immediately.
Firstly remember that most bedrooms and living areas are easily transformed with fresh paint and new furnishings.
The garden is another area that can easily be freshened up with some trendy landscaping, new letterbox, and maybe some hardwood decking at the front entrance instead of paving bricks.
However, we all know that the kitchen is the hub of every home in Perth, and therefore a great kitchen design will not only streamline family meal times, but it will add significant value to your property. The kitchen and bathroom are the two areas that home buyers will scrutinise when considering whether to buy or not to buy.
If you are going to get serious with a kitchen or bathroom renovation, let the professionals do the job, this is not the time for DIY.
Why Choose Flexi For Kitchen Renovations In Perth?
Flexi have been designing, crafting and installing premium quality kitchens for many years, achieving a well earned reputation for stand out quality of product and excellence in customer service.
The well trained professional team at Flexi in Perth, will always strive to provide their customers with the perfect kitchen to meet and exceed all expectations.
Whether you are in need of quality kitchen or bathroom renovations, or if you are building a new home, Flexi can design the right kitchen and bathroom for you and your family.
Choosing the right team for your kitchen, bathroom or laundry renovation is integral to getting the perfect result for your home. Your Flexi kitchen/bathroom/laundry renovation will be:
Well crafted design and of timeless quality
Cleverly designed
Designed with understanding your needs
Beautifully functional and practical
Delivered on time and on budget, at a fair price
Flexi's extensive range of kitchen cabinetry designs and colours, combined with their vast range of handles and accessories, means that your new kitchen will be unique to you.
Thanks to their cutting edge technology and years of experience creating beautiful kitchen designs and makeovers, the team at Flexi deliver beautifully functional kitchens at a fair price, every time.
Now that you realise, you do not have to sell your home and move, please contact the staff at Flexi a call on 08) 9301 4200 to arrange a free home consultation soon, you will be very glad that you did.
April 16, 2018