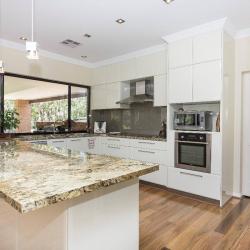 If you are serious about making a choice between getting a professional team to renovate your kitchen or doing the job yourself, ask yourself what it is that you actually need and expect from your kitchen renovations.
Some points to consider may include:
Setting your budget, how much can you afford?
What kitchen appliances if any, do you want to keep and what items will you need to purchase?
How much bench top area do you need?
Size of pantry and shelving depth?
Position of the sink and will you need a rubbish disposal unit?
The height of your cabinetry, will you be able to reach overhead cupboards safely?
Where will the rubbish bin go and will it be visible?
Do you need a dishwasher and if so what size do you need?
This is just the tip of the iceberg to getting your wish list sorted.
The real headache is about to start when you start to list the stages of the kitchen makeover that you may think you can tackle "DIY", to maybe save a few dollars.
Flat Packs For The DIY Enthusiasts
For those of you who think that flat packs are the way to go, you may find that you need to be either a highly skilled carpenter or a magician.
Kitchen walls differ from home to home and therefore finding the exact perfect fitting, kitchen flat pack for your kitchen renovation, is highly unlikely.
Why risk becoming a backyard "Bog it up Bazza" when you can have the perfect kitchen designed, built and installed within a set time frame at an agreed price.
Flexi Kitchen Renovations Perth
The team at Flexi Kitchen Renovations Perth take into consideration all of the things that make your quality kitchen design unique including:
Taking the time to listen and understand your new kitchen needs and any frustrations you may have.
Professional kitchen designers and builders will advise as to the best layout for your particular needs and budget.
Flexi industry experienced designers will meet with you in your own home so that they can accurately measure and advise you of your options for your quality kitchen renovation.
Show you the vast selection of kitchen styles and colours available for your renovation.
Help you make selections and find solutions that compliment the style of your home and the kitchen design of your choice.
Create a 3D computer model of your new kitchen design, outlining all proposed kitchen renovations.
Provide you with a quote for your new quality kitchen cabinetry design based on the colours and materials you have selected.
Provide you with a timetable for your kitchen renovations build and installation.
You will be kept fully informed throughout the whole renovation process, answering all of your questions and looking after your needs.
Contact the team at Flexi today on (08) 9301 4200 to arrange for your free at home design consultation. Or call into their showroom in Myaree or Joondalup to see their kitchens for yourself.
October 6, 2018