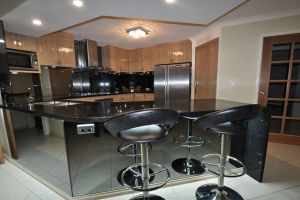 When it comes to display homes in Perth, there are so many to choose from and often you may find one that is almost perfect but the kitchen is all wrong for your needs.
If you have finally found the house plan that has everything else that you need except for the kitchen, all you need to do is have a chat with the team at Flexi Kitchens in Perth.
The kitchen design team from Flexi Kitchens in Perth, will be able to liaise with the building company with the installation of your perfect custom built kitchen.
The building company will be able to credit the costs involved for their standard kitchen design, which you can use towards your designer kitchen from Flexi.
Choosing A Flexi Kitchen In Perth
If you want your kitchen design to be crafted to the highest standard, you will be more than satisfied with the quality and craftsmanship delivered by the awesome team at Flexi.
Flexi are well known for creating premium quality kitchens in new homes as well as luxury kitchen renovations in established homes.
Flexi make it so easy for you to achieve exactly what you want in a kitchen design for your home.
All you need to do is compile a list of everything that you could possibly imagine that you could want and need in your perfect kitchen.

Kitchen Design Ideas
Some smart ways to get ideas for the kitchen design that you love and those that you know will work well for you and your family, are listed as follows:
Gather as many photos and articles from home magazines that depict your taste
Wander through home appliance stores to see what kitchen appliances you would love for your new kitchen and then list them with make and model information
Visit as many display homes as possible to see the latest in kitchen cabinets
Do your homework on what material you want your benchtop to be made from
Think about whether you prefer island bench, breakfast bar or open country style with room for breakfast table and seating
Please contact the team at Flexi Kitchens in Perth on (08) 9301 4200 and discover how easy it is to have the kitchen of your dreams included in your perfect new home.
July 2, 2019