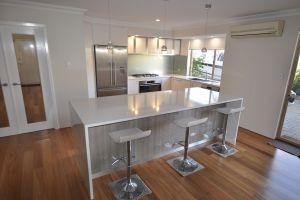 Today homeowners want kitchen designs which have plenty of space, practicality, style and function in our kitchens.
High end kitchens are on trend today with soft closing cabinet doors and drawers, a wine or soft drinks fridge, a built in dishwasher and plenty of wonderful bench space.
We also want stylish kitchen lighting that not only gives us enough light in the kitchen, but adds style as well.
Our kitchens are no longer just a food preparation area, they are the hub of our home, and pivotal to our family and our lifestyle. Kitchen designs in Perth are undergoing a renaissance with property owners having greater expectations in the layout and style than ever before.
Flexi Kitchens design beautiful Perth kitchens in WA that are fully functional, suit all budgets and are designed to suit your specific needs.
Forget about the flat packs and struggling to install them yourself.
Installing a kitchen is a huge job, and it is such a difficult and time consuming job that most homeowners just keep putting it off.
Trying to save money by installing a flat pack kitchen yourself, may end up costing you more money to get the job fixed properly.
The Perfect Kitchen
In the end, if you want a fabulous kitchen with no stress and no worry, you need to call the team at Flexi Kitchens on 08 9301 4200, because they will deliver the kitchen of your dreams without all the stress and worry.
Flexi Kitchens Are The Right Choice
When selecting a new kitchen, laundry or bathroom design for your home, customers can expect from Flexi:
Quality workmanship
The ability to set and work within their own budget
A set deadline for the completion and installation of the new kitchen/ bathroom with a complete timeline of the project works
On time kitchen/bathroom delivery and installation
Friendly and courteous staff with ongoing customer service and communication throughout the entire kitchen renovation project
Experienced kitchen designers who listen and understand your kitchen layout ideas and assist you in creating the kitchen of your dreams
A large selection of custom made kitchen cabinetry design, kitchen fixtures and fittings
Kitchen colour and design choices that will compliment the rest of your home
Qualified kitchen tradespeople who demonstrate care and consideration in your home during the whole kitchen renovation project from quote to installation
The team from Flexi have been designing and installing custom made kitchen, laundry and bathroom cabinets as well as quality furniture for WA homes since the turn of the century, so contact the team today and find out why a Flexi customer is a customer for life.
April 28, 2019