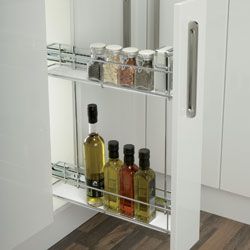 Anyone can transform their home with clever kitchen renovations in Perth.
It is all about using whatever available space there is to optimise storage and work space.
Most kitchens will have at least one main work station revolving around the fridge, the stove and the kitchen sink, all of which need to be accessed easily.
Have you ever been in a kitchen where there is room for only one person, or where an open oven door or open fridge door will block your walk way?
These scenarios are not ideal for a modern kitchen work space. Kitchens need to be functional and practical.
The kitchen really has become the number one room in the house – it's the place where everybody needs to be at some point in their everyday routine, whether meeting for breakfast or coffee in the mornings or for meal preparation in the later part of the day.
Catching up with friends is often done in the kitchen with a cup of coffee or glass of wine. The kitchen is the hub of most family homes and the centre of most activity.
Kitchen Renovations in Perth Can Increase Your Living Space In Your Tiny Apartment
If you are living in a small apartment where the kitchen is part of the main living room, then you will certainly benefit from a clever kitchen renovation that will not only look gorgeous, but will also make meal preparation and clean up a breeze.
The trick is to optimise every piece of space from the floor to the ceiling, using clever storage ideas in places that can be easily accessed.
Flexi Kitchen Renovations Perth
If you are serious about wanting to improve your day to day living in your tiny little apartment but you do not know where to start, then pick up the phone and chat to someone from Flexi's Kitchen Renovations team.
The team at Flexi are all very experienced in helping people to get the very best out of their kitchen space and they will have many innovative ideas to share with you.
They will be able to help you create a beautiful kitchen within the living space of your modest apartment, which will make you very proud to invite your friends or family over to share a meal with you which prepared by yourself in your fabulous new kitchen.
Are you completing kitchen renovations north of the river?
Call Flexi today on (08) 9301 4200 or visit their Joondalup showroom and feel the quality of workmanship for yourself. Speak to one of the showroom staff and find out how they can get your new kitchen designed, built and installed with minimal disruption.
South of the river and looking for kitchen renovations?
Spend some time in the Myaree showroom and speak to the showroom team there or call Flexi today on (08) 9301 4200.
April 30, 2018