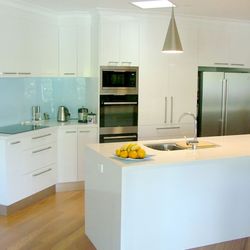 Transform Your Home In Perth With Flexi Kitchen Renovations
The quickest and most cost effective kitchen renovations in Perth, are the ones that do not involve the flat pack!
Flat pack kitchens seem inexpensive, however even the most experienced handyman has trouble with fitting flat pack kitchens.
The fact is that the walls in most homes are not always perfectly square, and therefore if you want a perfect fit, the kitchen cabinetry needs to be custom built to the exact measurements of the kitchen wall space where they will be fitted.
Then of course there is the plumbing, wiring, tiles etc. These elements need to be completed by qualified trades people in compliance with the relevant bylaws.
Avoid problems with any future insurance claims by having your plumbing and wiring performed by licensed tradespeople.
Professional Kitchen Renovations In Perth
The team at Flexi kitchen Renovations in Perth, have been designing, creating and installing perfect kitchens for customers in Perth, WA for years.
Flexi have an impeccable reputation and for a very good reason. Much of their business is through word of mouth from very satisfied repeat customers.
One of the reasons that Flexi's customers keep coming back, is because of their free home consulting service.
Members from the team will come to your home and look at what available space you have and discuss with you, your kitchen design ideas, and help with any needed kitchen space storage solutions.
You will be able to discuss your storage challenges with the people who are experts in creating innovative storage solutions, even in the most limited of spaces.
Kitchen Renovations Made Easy
The kitchen renovation team at Flexi are the experts in getting the most out of any kitchen wall space and at a reasonable price without cutting quality or standards.
Kitchen renovations, design, storage space solutions, new kitchen design – whatever your frustration, Flexi have the solution.
Visit one of their showrooms today and see for yourself, what a finished Flexi kitchen design looks and feels like.
Flexi have showrooms north and south of the river specially to help with your kitchen renovations.
Talk to the teams in the Myaree showroom or the Joondalup showroom or contact them today on (08) 9301 4200 and arrange for one of their experienced kitchen and bathroom designers to come to your home.
December 10, 2018