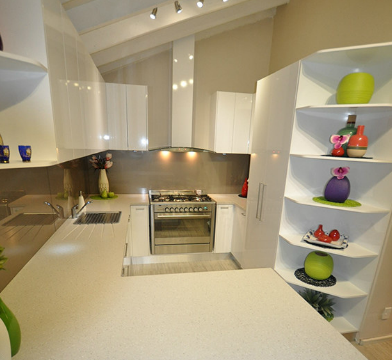 Perfect Kitchens For Today's Families
Bathrooms and kitchens in Perth are the two most important areas of your home and are usually the non negotiables when you are looking for a new home. Your family bathroom needs to give you enough room for a shower, bath and a vanity, whilst your kitchen requirements will vary depending on your family's needs.
There are so many different design options and styles for Perth kitchens, it is not just about the perfect triangle of the stove top, fridge and the sink, it is about lifestyle choices and home entertaining.
Creativity Is The Key In Perth Kitchens
With so many different designs of kitchens available in Perth WA, you need to start thinking about the size of the kitchen pantry you need, the space for one of those awesome extra-large fridge/freezer combos and the dishwasher. Not forgetting that you need to find the perfect spot in the kitchen for the microwave, so it is not too high and dangerous when you remove hot food.
So you need to first think about how much kitchen space you really need in your Perth kitchen for food preparation, storage and home entertaining. For example, do you want the sink under the kitchen window or in the island bench? You could also have the stove top and a sink in the kitchen bench or save this space for food preparation and casual dining.
Many new Perth kitchens now include a kitchen appliance hatch with a roll down door for their multiple, bulky kitchen appliances, which saves you from having to struggle to lift heavy appliances up onto the kitchen bench from the lower cabinetry.
Another increasing trend in Perth kitchens is having multiple kitchen power points strategically placed around the kitchen, so that you don't have electrical cords piggybacked and running along the kitchen bench tops. No one wants to have unsightly power boards draped on their kitchen bench tops and getting in the way of their food preparations!
New Perth kitchens are all about thinking and planning first, making sure that your new kitchen not only looks fabulous, but is also designed to function beautifully as well.
Flexi Kitchens in Perth are designed to function perfectly and to look fabulous. We will design your new Perth kitchen to give you the lifestyle that you want and all the functionality you need. We will come to your home or look at the plans for your new home and design your new kitchen, taking on-board all of your own kitchen design ideas and creativity.
There has never been a better time for kitchen renovations or to  build new Perth kitchens.
If  you want a perfect design with  high quality, custom built kitchen, you need to have the experts in Perth kitchens on your team.
So call Flexi Kitchens on 08 9301 4200 or complete our online enquiry form and we will arrange for one of our master designers to visit your home.
May 10, 2016