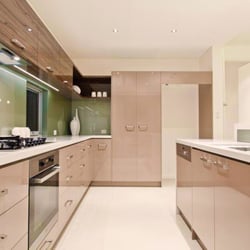 The kitchen is a common room to renovate in many Perth homes.  It can be a big decision in deciding to go ahead with a kitchen renovation, as it is likely to cost you both time and money.  Thankfully, however, the benefits of a kitchen renovation outweigh the short-term inconvenience. Not only does a kitchen renovation increase the value of the home, it also makes the kitchen more enjoyable to use.  The kitchen is the central hub of the home for most families, where the family gathers to cook, eat and chat. Flexi Kitchens in Perth have helped many Perth people renovate their kitchen and transform their home. Here are a few tips from the team at Flexi when it comes to renovating a kitchen.
Tip 1 Change it up a bit
A big part of a kitchen renovation comes down to matching the new kitchen to the current decor of the home.  Ideally, the new kitchen design should not only match the home decor but also enhance it. Sometimes a new kitchen looks great if it stands out from the rest of the house.  People should consider using bold colours and creative kitchen designs that will make the most of the space. Using colourful features and unusual colours in the kitchen can help make the kitchen appear like an attractive feature of the home.
Tip 2 Custom design is the way to go
In the kitchen building industry, there is no such thing as 'one size fits all'.  Every home and every kitchen space is different. This is why it is important to get a custom made kitchen that is built to fit the home. A custom kitchen not only looks better, it also helps the homeowner make the most of the available kitchen space.  
Tip 3 Carefully plan bench space
Bench space is one of the most important factors to consider when designing a new kitchen.  There's nothing worse than working in a cramped kitchen with inadequate bench space! A kitchen renovation is a perfect opportunity to ensure there is plenty of bench space in the kitchen to that everyone in the family can roll up their sleeves and give a hand.
Tip 4 Make sure the new kitchen is functional
While it is important for a new kitchen to look good, it is also important for the kitchen to be functional and practical.  Consider how easy it will be to move around the kitchen to do normal duties. One should also think about how the kitchen will be used and by how many people.
Flexi Kitchens in Perth have been designing and creating beautiful, custom kitchens for Perth homes for many years.  They are proud to provide exceptional customer service and quality products that exceed customers expectations. Contact the friendly team today to find out more.
July 30, 2018