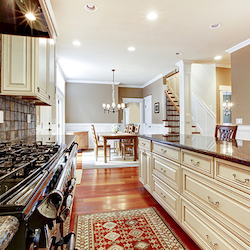 When it comes to a kitchen design, there can never be too much storage!! Kitchen storage in the home is such an important consideration when choosing a new kitchen. No matter what the size or design of the kitchen, storage always seems to be a challenge! Ideally, a kitchen design should include plenty of storage while still looking great in the home and being really functional and user-friendly. Here are some tips for maximising storage in a new kitchen.
Drawers
As a general rule, drawers in a kitchen create a lot more storage space than cupboards. While kitchen cupboards are bigger, they tend to have a lot of empty, unusable space. Kitchen drawers also slide out, making them easier and more accessible to the kitchen user.
The pantry
The kitchen pantry is possibly one of the most well-used parts of a kitchen and so it important to get it right! A good pantry should allow the user to store plenty of things in a well-organised manner. Products stored in the kitchen pantry should be close at hand so they can be easily grabbed when working in the kitchen. The kitchen pantry should include shelves and drawers for storing small items like cans, spices, sauces etc. Doors in the kitchen pantry are a good way of hiding clutter and keeping the kitchen looking neat.
Built-in appliances
When thinking about a new kitchen design, consider getting kitchen appliances built into the kitchen cabinets. The oven, dishwasher and microwave will look so much better if it is built in and it also saves space in the kitchen.
Kitchen island storage
Kitchen islands are very popular in new Perth kitchens. Not only do they create a lot of extra bench space, they can also add a lot of handy storage space! Kitchen island storage is a great place to store commonly used cooking items such as your favourite pots and pans. Kitchen islands are available with all sorts of different storage options. Some kitchen islands are basically a table with shelves underneath, or there are kitchen islands with drawers and cupboards underneath for maximising storage space.
Counter space
Clutter-free kitchens don't only look inviting, they are also a lot easier to work in. It is easy for things to gather and pile up in the kitchen without even realising it! To maximise the kitchen counter space and keep things uncluttered, it is important to have designated places for each item. Kitchen counters can now be customised with built-in nooks for storing utensils, cutting boards or washed fruit and veg.
Flexi Kitchens Perth
The team at Flexi Kitchens in Perth WA understand the importance of good storage in the home. Contact our friendly team today to find out how Flexi can custom design, make to measure and fully install a new kitchen!
Flexi Kitchens Joondalup WA Showroom Ph 08 0301 4200
Or
Flexi Kitchens Myaree WA Showroom Ph 08 9317 6688
May 18, 2018