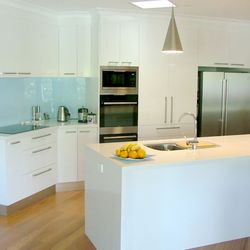 Perth Kitchen Renovations can help make life a little easier for us when we are balancing our busy daily work routine with endless home duties by streamlining our meal preparation time in the mornings and evenings.
How often do you come home from a busy day at work only to have to start making the evening meal for your family?
Well, with a little help from Flexi Kitchens, you could transform your cramped kitchen space into a spacious meal preparation area which has enough room for at least 2 extra budding chefs in the kitchen.
Just imagine the benefits from having more than one cook in the home.
Perth Kitchen Renovations Is A Healthy Start
There really are a lot of substantial benefits for families who prepare evening meals together including;
Conversations in the kitchen while preparing food provide opportunities for the family to bond, connect, and learn from each other.
This is the perfect opportunity to share information and chat about what is going on in each other's lives.
This is a fun family event that nurtures love and the sense of belonging.
Preparing meals together is a learning experience for those younger members of the family as well as mum and dad.
This is a great opportunity to introduce new foods and interesting recipes in a fun and light hearted manner.
Kids as well as mum, enjoy seeing dad in the kitchen setting an excellent example of non gender biased roles in the family home.
The family that cooks together will then eat together.
Basic cooking, baking, and food preparation are necessities for being self-sufficient in life and therefore when the whole family is involved in menu planning, grocery shopping, and food preparation, there are many lessons being taught.
Under supervision, the little ones can tear lettuce, cut bananas, fold napkins, older children can peel vegetables, teenagers can dice, chop, bake, and grill, what a great team effort.
This could be a scheduled mid weekly family event that will create wonderful memories and fun conversations to recall in later life.
Start The Process With Flexi Kitchens
The sky's the limit when it comes to innovative kitchen design ideas in Western Australia.
If you are struggling in your current kitchen at home, if there is not enough room to swing a cat, let alone having room for more than one person standing at the sink, you need to call us here at Flexi.
We have been doing this for a long time, we understand how important the kitchen is in any home and we know how to optimise the space to create the ideal kitchen design for each individual family's lifestyle needs.
For innovative design ideas, the highest quality in craftsmanship and outstanding customer service, contact our team on (08) 9301 4200, we look forward to hearing from you.
September 6, 2017