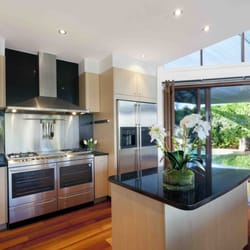 When it comes to kitchens in Perth homes, these days it is all about the gourmet chef and the very latest in food trends. There are so many cooking shows on TV these days, it is no wonder that cooking fine food in our kitchens at home is becoming very popular.
Most of us love to entertain at home, cooking great food for our guests, however having the right kitchen design can mean the difference between divine food or average food.
Depending on your lifestyle, there are many innovative kitchen design ideas that will tick all of the boxes you need to achieve the perfect kitchen for your needs.
Flexi Kitchens In Perth
Flexi Kitchens in Perth, WA has been designing, building and installing beautifully functional kitchens for the people of Perth since 2001.
The team at Flexi strive to be the most respected name in the kitchen renovation industry, by listening to their customers, providing them with a clear kitchen renovation process and ensuring that they understand all of their customer needs through innovative and beautiful design.
The design team at Flexi are able to create clever ideas for your perfect kitchen that will not only look beautiful but also provide:
Making cooking easier in organised kitchens with smart kitchen design ideas
Ample cabinets with plenty of room
Storage for appliances will prevent clutter on kitchen benchtops
Pop up power points that rise from the kitchen island bench when needed
Smart design ensure tidy kitchens that hides bins and cleaning products
Easy to reach storage for dishes, cooking utensils and appliances
Roller door cabinets which will optimise the useable space in front of your benchtop appliance cupboard
Well placed pantry with adjustable, easy to reach shelving in various heights with a sturdy, compact step ladder to reach the top shelves
A designated place for the microwave oven
A refrigerator recess that will be big enough for the model of your choice
Uncluttered kitchen design with ample workspace
Good quality lighting over the work areas
Wine storage
Adequate ventilation and exhaust extractor system
The team at Flexi kitchens can help you with all your kitchen project ideas, whether you are looking to build a new home or whether you have decided to renovate your current home.
The team at Flexi have many innovative and exciting ideas for your kitchen design.
Contact Flexi kitchens now on (08) 9301 4200.
January 22, 2019