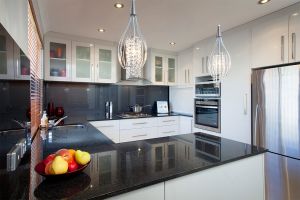 Flexi Kitchens Perth are all about functional kitchens with clever storage solutions and innovative design ideas.
For those of us with a busy, modern lifestyle, we know how much easier life is in the mornings when we have a smart kitchen design to work in, as the family comes together to get ready for their day.
A well planned kitchen with adequate bench top allows us to prepare lunches for school and work, have the toaster and kettle within easy reach as well as adequate casual eating space for the family.
Consider Custom Kitchens In Perth
Every family is different and it makes sense that kitchens should reflect the needs of individual family lifestyles.
Whether your family consists of yourself and your most treasured furry companion, or you are married with six kids withNana living in a caravan out the back, your kitchen needs vary dramatically!
The simple fact is that you can have a custom designed kitchen to provide your exact needs in a workable kitchen for your household.
The team from Flexi in Perth, WA, have been designing kitchens in Perth for decades, delivering a premium product on time and within your specified budget.
If you love where you are living, but your kitchen is outdated and just not working for you and your family, contact the team at Flexi to arrange a free in home consultation. You will be pleasantly surprised and suitably impressed with the extent of their helpful knowledge and clever storage solution ideas to give you the perfect kitchen.
Flexi Kitchens Perth Deliver What You Expect Every Time
The team at Flexi don't just listen to what you are looking for in a kitchen design, they will discuss various options with you depending on your needs as well as your particular style preferences and taste.
Flexi kitchen designers will discuss with you, things such as:
Whether you wish to keep your current kitchen shape
The layout of your current kitchen floor plan
The type of cabinetry you will need
Plumbing requirements
The space where you prefer to eat for meals
The need for a breakfast bar or island bench
How many people will be using the kitchen
Specific appliance preferences
Pantry size
Lighting specific work areas
Size of refrigerator
Wine storage
Hide away rubbish bins
Pop up power outlets on work areas
There are so many wonderful new ideas for streamlining your kitchen design, so why not contact the team at Flexi and arrange your free in home consultation today on (08) 9301 4200.
May 16, 2019