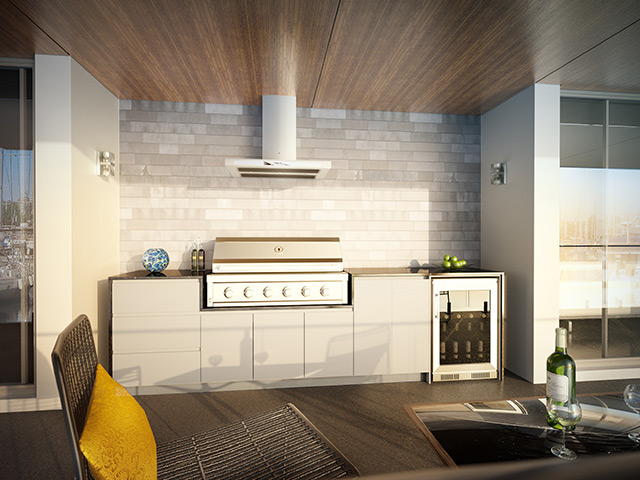 As we approach the festive season we start to think about all those traditional summer barbies with family and friends on the back patio.
Are you starting to cringe at the thought of all the work involved for you with catering to the needs of all those hungry guests?
Yes it is lovely to have everyone over at your place so you do not have to do the annual pilgrimage from house to house to exchange gifts and have a cup of good cheer or two.
Apart from not having to spend half the day driving, you get to stay at home and welcome all those guests who have made the pilgrimage to your place.
So why are you cringing? Is it the thought of trudging back and forth from your kitchen to the patio, does your sliding door to the outdoor area not open and close by itself, and how many flies does it take to ruin Nan's trifle sitting on the breakfast bar inside?
If these thoughts are causing you concern, why not treat yourself to an early Xmas prezzie and have a gorgeous new Flexi Alfresco Kitchen installed before the hordes arrive!
With an alfresco kitchen you will be able to enjoy the party, relaxing while keeping a watchful eye on the "chef" who now has proclaimed ownership of the new outdoor kitchen.
Choose Flexi To Create Your Alfresco Kitchen
If you have decided it is time to create a beautiful alfresco kitchen which is practical and functional, then chat with the team at Flexi.
Flexi have been designing, manufacturing and installing awesome kitchens for home owners throughout WA, and now they are now offering a range of stunning, ready-to-install Alfresco Kitchens.
Flexi Kitchens are one of Perth's most trusted teams when it comes to designing, building and installing your dream kitchen and it has never been easier, to have the perfect outdoor kitchen.
Benefits of a Flexi Alfresco Kitchen include customisable features such as:
Four model layout options
Six modern door colours
Two granite benchtop finishes
A range of optional appliances including sink, tap, rangehood, barbecue and more!
Each Alfresco Kitchen comes with:
Sleek European hinges
Soft close drawers and doors
Easy-clean granite benchtops & granite slab ends
Treated foam-fill carcase specific to outdoor use in the WA Climate
Compact laminate doors & drawer fronts
Pre drilled for gas line installation
Choose to DIY install or have our local team of kitchen experts professionally install your new outdoor kitchen for you.
It has never been easier to have a customised outdoor kitchen which will enhance your lifestyle and add value to your property.
Contact the team today on (08) 9301 4200 and find out for yourself how easy it is to enhance your lifestyle with a Flexi Alfresco Kitchen.
November 13, 2018