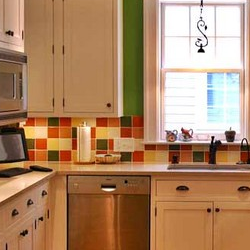 Some of us tend to put up with an outdated kitchen simply because we do not want the inconvenience or the mess. Kitchen renovations can take a long time if we have to wait for our partners to have the time. Worse still is if your partner thinks that they are able to tackle the job themselves. This is a recipe for disaster.
Another thing to take into account is the cost factor. Often people think that to have a professional kitchen renovation is just too expensive and completely out of reach. This is not always the case. Flexi in Perth are a reputable company that specialise in kitchen, bathroom and laundry renovations.
Flexi Kitchen Renovations
Here at Flexi we offer an excellent home visit service. This is very popular with our customers and we are proud that our customers keep coming back to us for further bathroom, laundry or even wardrobe renovations. We simply are the best.
When we come to your home to accurately measure the space that will become your new kitchen, we will be able to discuss all your design ideas and provide with an instant quote.
This is great for busy people. It is a fuss free approach to renovating and takes out all the stress. Your only problem will be deciding on colours and cabinet designs, what a nice problem that is.
One of the benefits of renovating with Flexi is that after the design and crafting stage, your beautiful new kitchen is delivered and installed in just one day. Can you believe it?
That is so convenient and you will be surprised at how affordable your new kitchen can be.
Our aim is to please no matter what your budget. We can create a very basic design to meet a small budget, an extra special kitchen with all the bells and whistles or something somewhere in between. Give us a call. We are more than happy to chat with you about your design ideas.
Flexi Kitchens North & South
Do you need kitchen renovations north of the river in Perth?
Visit our Joondalup showroom and feel the quality of workmanship for yourself.
Speak to one of our showroom staff and find out how we can get your kitchen designed, built and installed with minimal disruption.
Do you live South of the river and looking for kitchen renovations?
Spend some time in our Myaree showroom and speak to the showroom team there. Open our kitchen cabinets, run your hands along the work surfaces, try out our innovative in-cupboard solutions for yourself.
We make your kitchen renovation easy.
Call us today on (08) 9301 4200
February 9, 2017