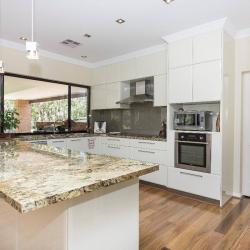 Anyone planning a kitchen renovation in Perth understands that it can be both thrilling and intimidating at times. The team at Flexi Kitchens in Perth, have learnt that the key to a successful kitchen renovation in Perth is preparation.  That's why they take the time to come out to the home and talk to the customer to discuss what they are looking for in a new kitchen.  Taking the time before proceeding with any kitchen renovations can save people a lot of time and money if they don't end up with the kitchen that they want!  So the team at Flexi Kitchens in Perth have come up with some suggested steps to take before proceeding with a kitchen renovation.
Do plenty of research
When thinking about a new kitchen or a kitchen renovation, there can never be too much research done!  Most people actually find researching a new kitchen to be really fun and exciting as there are so many wonderful kitchen design ideas out there!  The internet, magazines, display homes and kitchen showrooms are all great places to start researching new kitchen ideas.  By doing research, people can identify things that they do and don't like about various kitchen designs.  When it comes to kitchen research, there's no hurry or time limit.  People can take their time with their kitchen research until they are satisfied that they have found the kitchen they like.
Plan the design carefully
The kitchen design needs very careful consideration and planning.  As experts in kitchen renovations, the team at Flexi Kitchens have seen many kitchen design nightmares!  Planning the kitchen design can be time-consuming but it is well worth the effort.   People planning a kitchen renovation need to consider the kitchen layout and whether the existing layout needs to be changed. If the kitchen layout needs to be changed around, there may be some structural work needed.  Consideration must be given to the design of the kitchen as well.  Does the homeowner want a modern, traditional or contemporary kitchen design?
Think about what is needed in the new kitchen
One of the first steps to take when planning a kitchen renovation is considering what is needed in the new kitchen.  What issues are there with the old kitchen that need improving?  Whatever is needed in the new kitchen, it is important to communicate it well to the team at Flexi Kitchens.
Contact Flexi Kitchens in Perth if you would like to find out more about how they can help with a kitchen renovation.  Flexi Kitchens in Perth are the kitchen renovation experts and are well known for their excellent service and excellent quality products. Come to see one of Flexi Kitchens showrooms or give the team a call!
August 12, 2018