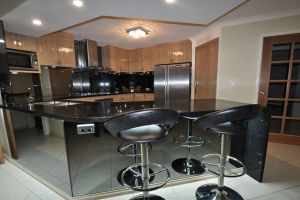 Not all kitchens in Perth are the same, they can range from the very basic stove, fridge and sink with a few cupboards, right through to an extravagant gourmet kitchen with butler's pantry and wine cellar.
It is all about your personal lifestyle and what your needs are in a kitchen.
Most importantly, you need to have a functional kitchen which is practical, and after that you can add as many extras as you want to make life easier for yourself and your family.
Choose Flexi For Quality Kitchens In Perth
Whether you are planning to build a new house or you want to renovate the kitchen in your current home, the secret is to engage professional kitchen specialists who have the experience and reputation to deliver the perfect kitchen to meet your expectations.
A premium quality kitchen renovation will transform your home from very nice to very impressive, you need to chat to our experts at Flexi Kitchen Renovations in Perth.
We understand just how big a job it is to renovate a kitchen in Perth.
Stress Less With Flexi Kitchen Renovations
No need to stress, just relax during your kitchen renovations with the team from Flexi in Perth.
They always strive to achieve outstanding results for their customers, while providing excellent customer service.
The team at Flexi understand that the needs of their customers always comes first and therefore they have developed a unique solution to minimise the disruption to the daily lives of families while their new kitchen is being built and installed.
With their cutting edge technology and many years of experience creating beautiful kitchens, the team from Flexi deliver premium quality, functional kitchens at a fair price, every time.
Easy As 1,2,3
It really is as easy as 1,2,3……..at your free home consultation, the team will work with you to design your new kitchen layout.
During this free kitchen renovation consultation you can expect:
1.Your available space for your new kitchen will be measured accurately to optimise the kitchen storage options.
2.To discuss your needs and any kitchen design ideas you may have
3.The team to take the time to understand your kitchen design needs and challenges.
For any further information or to arrange a home visit, please contact Flexi on (08) 9301 4200.
April 9, 2019