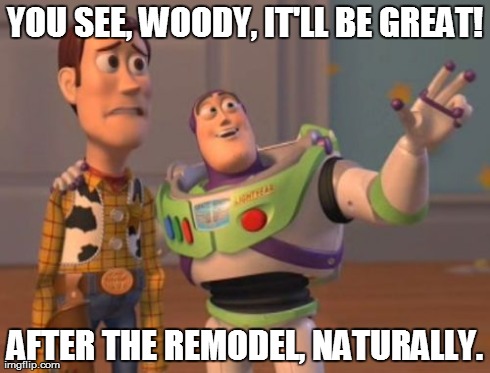 When you are looking at a quality make over to your bathroom, laundry and the kitchen layout in your home, one of your first thoughts is how much is going to cost?
Reduce The Cost Of Kitchen Renovations
Let's look at ways to reduce the cost of renovating the kitchen and bathroom.
Often home owners attempt to reduce the bill for their new bathroom and the kitchen is to do some or all of the work themselves. This might be ok if you are an experienced handyman, however if you don't know how to measure twice to cut once, then it might not be your best option.
DIY Kitchens Is Not Always A Good Idea
Generally, the problem with a DIY project is that it takes too much time. The project can end up being ongoing, taking weeks or in some cases, months to complete.
With the professional team from Flexi however, we will give you a renovation and installation data and we will stick to it.
After we have measured, designed and created your project, it will be fully installed in your home and ready to go in a matter of days.
Flexi Kitchens & Renovation
When you try to DIY yourself, things don't always go to plan. As we all know, measurements can be wrong, walls can be uneven and when you have to retrofit a newly purchased flat pack kitchen, the time and the money can rapidly escalate, especially if you are not experienced.
You can end up spending a lot more money than you anticipated on your kitchen design, because of a few expensive installation mistakes.
Renovating can be a stressful experience for the DIY home owner.
Spending your evenings and weekends trying to install a flat pack kitchen can be a recipe for disaster, so why put yourself through all of the hassle when you can call in the professional experts?
If you are ready for a kitchen renovation, make the right decision and call the professionals at Flexi to see the range of modern designs at their showroom for their excellent service on offer, on 08 9301 4200 or complete their online enquiry form.
Perth bathrooms and kitchen renovations – feel the Flexi difference
For Perth renovations north of the river.
Call us today on (08) 9301 4200 or visit our Joondalup showroom and view the quality of workmanship for yourself. Speak to one of our showroom staff and find out how we can get your custom kitchen design and cabinets, built and installed with minimal disruption. We make your kitchen renovation easy.
For South of the river and looking for a kitchen renovation.
Visit our Myaree showroom and speak to the showroom team there or call today on (08) 9301 4200. Open our kitchen cupboards, run your hands along the work surfaces, try out our innovative in-cupboard solutions for yourself.
November 10, 2016