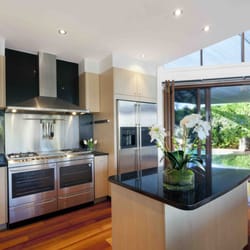 When it comes to Perth kitchen renovations it is very important to choose your professional kitchen renovation team very carefully, this will be the team that will be responsible for the kitchen design, building work and the installation of your kitchen project.
The team of kitchen specialists will need to have a wealth of experience in kitchen design, a high reputation and proven track record for delivering a quality product on time and with as little as possible disruption to your daily routine.
Make sure that you select a company that has great kitchen, bathroom and laundry showrooms where you can see and inspect the quality of their work and finished product.
It is often helpful to read online reviews from people who have had a quality kitchen project completed to a very high standard exceding their expectations.
Reading independent reviews from customers and visiting their showroom is a good start to making your decision on who to choose for your kitchen project.
If you want a quality kitchen design and kitchen renovation that does not look like a less than average afterthought, contact the team of kitchen, bathroom and laundry design specialists at Flexi Kitchens in Perth.
They have been providing customers with an excellent product and outstanding customer service that is second to none.
The team at Flexi are not only the best kitchen designers but they also build and install their impressive kitchen designs with a minimum of fuss to your daily routine.
When it comes to deciding on a brand new quality kitchen in your home, do not take chances with a company that talks about bargain deals.
Remember that you cannot compromise on price when you are expecting a quality product.
If you want a premium product, durability and excellent customer service before and after the completion of your kitchen project, then Flexi Kitchen Renovations Perth is the name to remember.
The first thing you need to settle on with kitchen renovations in Perth is the right team of kitchen experts who will deliver a great kitchen design and product finish that will meet your expectations.
A Clever Design Is The Key To Fabulous Functional Kitchen Renovations Perth
Most of us will agonise over our kitchen design ideas and style choices.
It is not easy trying to tick all our boxes and keeping in mind the available space we have.
As we all know, kitchens are the heart of our home, and we want our kitchens to be modern, stylish, practical and built to last.
It is always a smart investment to engage the best professional kitchen designers and craftsmen to design, build and install a brand new kitchen.
From the very start you will be able to discuss every aspect of your new kitchen design, right down to the handles on your kitchen cupboards.
Choose Flexi Quality You Can Trust
When you choose Flexi Perth Kitchen Renovations, you are choosing quality and peace of mind.
Flexi kitchen designers will come into your home to help you to design the right innovative kitchen design for your needs and for your lifestyle in Perth.
Choose Quality When You Need A Kitchen That Will Impress
For more information on how we can help with your Perth kitchen renovations, contact Flexi Kitchens on 08 9301 4200 or complete our online enquiry form.
June 13, 2017