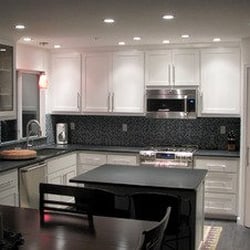 Perth Kitchens are all about function and therefore it does not matter what type of bench tops you have or if you have the latest wiz bang gadgets, if your kitchen feels crowded or you can not reach your kitchen ware easily, you need to rethink your kitchen design.
There are plenty of display homes out there for those people looking to build a new home, and most of them have a kitchen design that shows off the latest trends in home appliances and decor options.
These kitchens may look fabulous, with the slick splashback, granite benchtop and the latest tapware options, but in the real world, you need a kitchen that works for your particular lifestyle.
We all have different needs when it comes to kitchen design, but at the end of the day, this area is the hub of most homes and it needs to be practical and functional.
A clever kitchen design will make the most of all available space and have innovative solutions to meet the most challenging of storage space.
Designing Perth Kitchens
When purchasing a new home, your are not bound to have the kitchen design that is in the display home.
It may not function effectively in your day to day lifestyle, and become a problem that may need to be rectified with expensive renovations later.
Here at Flexi Kitchens in Perth, we are able to discuss with you what your needs are for a practical kitchen that will serve you well. Our experienced design team can custom design a kitchen for you that will meet your exact requirements and then our professional team of trades people will install it, on time and on budget.
If you have found a house plan that is perfect for your family except for the kitchen, you can discuss this with the builder and get a credit for the unsatisfactory kitchen, and then the team from Flexi can liaise with the builder with regards to the replacement kitchen installation.
When you choose you have a kitchen designed and built by the team at Flexi, you are choosing a superior product to what is on offer in standard project homes today.
Not only will your custom kitchen be created to address your personal design ideas, but the finished product will exceed your expectations both in craftsmanship and deadline completion.
Visit Our Showrooms
With beautiful kitchen design showrooms in Joondalup and Myaree you will be able to inspect the quality of our kitchen products for yourself, including;
Soft close kitchen doors and kitchen drawers are a standard feature
Beautiful range of solid surface and quality quartz kitchen bench tops
Innovative kitchen design ideas
Cleverly considered cabinet design and drawer inserts
Lazy Susans and hide away bins
Vast choice of styles, designs and colours
See for yourself how Flexi Kitchens Perth can create a beautifully functional quality kitchen for you.
For more information contact us on:
Phone – (08) 9301 4200
Fax – (08) 9301 4211
Country – 1800 256 509
February 9, 2018