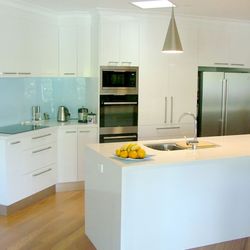 Our kitchen design team here at Flexi have been designing, building and installing high quality custom built Perth kitchens since the turn of the century.
We pride ourselves on our reputation for excellence in our workmanship and the outstanding customer service we provide throughout the whole process of your project.
Whether you choose to purchase a home that needs a kitchen renovation or if you are looking at building a new home from a plan, our team here at Flexi will be able to design and create the perfect kitchen to suit the needs of you and your family.
Our design team will spend time with you to understand exactly what factors are needed in a kitchen for your home that will be practical for the needs of your family, as well as look beautiful.
Planning Practical Perth Kitchens
There are so many factors that contribute to the many styles of kitchens that we create and therefore we always ensure that your ideas for your home are acknowledged at the very beginning of planning. With the use of our high tech 3D design software, we are able to show you what your kitchen will look like, making any necessary alterations on the spot.
When it comes to renovating kitchens, our designers take many factors into account including :
Whether or not to change your current kitchen shape, and whether you need to remove kitchen walls and cabinets or replace flooring to create a new kitchen shape
The need for a casual dining area
How many people will be using the kitchen
What size white goods are needed to fit in the kitchen
Refrigerator plumbing
Rubbish disposal
Size of pantry and depth of shelving
Size of pot drawers
Utensil storage
The location of power outlets
Sensible lighting over meal prep areas
Easy access to kitchen appliance storage
Wine storage
Of course there are also the aesthetics to consider as well, with the choice of various kitchen bench top materials, cabinetry and fittings. What colours and styles are going to match or enhance your home decor?
Today there are some wonderful options to use in place of kitchen wall tiling. The glass splashback is an exceptional alternative to tiles in kitchens for several reasons including the ease in keeping them clean and hygienic.
There are so many exciting kitchen design ideas to consider, so why not arrange to have a home consultation with us to discuss how easy it is to create the kitchen of your dreams.
Customers find that we develop the most effective kitchens for our customers needs.
We are the experts and we are here to make sure your that your kitchen renovation is a stress free project with outstanding results.
Please contact us on (08) 9301 4200 to arrange your FREE in-home design consultation valued at $300 and receive 3D drawings of your new Kitchen.
March 13, 2018