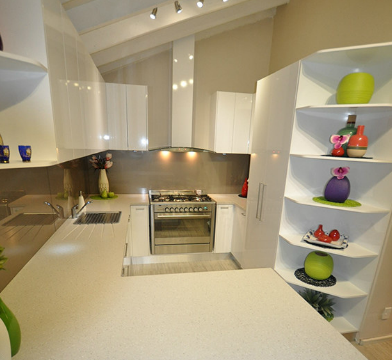 The kitchen is the heart of the home, so whether you are thinking about kitchen renovations, buying an established home or building a brand new one, we all know that the kitchen is an important area for our family. This is where we all congregate at the beginning and end of each day, and where we cook, eat and socialise, so Perth kitchens need to reflect our lifestyle and our needs.
Every family is different and we all have a range of priorities, so before you install a new kitchen, it is important that you know what features are absolutely necessary in your kitchen. For example, there is no point in renovating your kitchen if you have always wanted a built in dishwasher and a steam oven, but you can't seem to fit them into your layout.
Flexi Are The Experts At Designing Kitchen Layouts
There is something to be said for going it alone and being a DIY kitchen renovator, but there is also a compelling argument for seeking professional help as well. At Flexi, we are experts in quality kitchen design in Perth homes and we can reconfigure the design and layout of your kitchen so that everything you want is included in the space. We will find the space for your built-in dishwasher and your steam oven and we will give you everything on your list as well.
This means that the first step to achieving your perfect kitchen is to make list of everything you need in the space. So for example, if your family likes casual dining, maybe a breakfast bar is a good idea for quick meals on the go. Maybe the kids are always rushing in and out to get drinks out of the fridge and leaving the fridge door open, so a drinks fridge at the end of the bench might be a good idea.
Many new kitchen designs at the moment have open shelving, because this is on trend right now, however you might prefer to have all of your utensils in cupboards and behind closed doors. How about storage with deep shelves for all of your large appliances and soft closing doors and drawers?
As you can see, it is far better to have a list of your essentials to hand when you are ready to design your kitchen, because this makes the whole design process so much easier and quicker. Trying to shoehorn what you want into an existing space quite often takes skill and a lot of experience, and at Flexi Kitchens in Perth WA we have an abundance of both of these.
So if you are ready to have the kitchen of your dreams, call us at Flexi Kitchens on 08 9301 4200 or complete our online enquiry form.
July 6, 2016