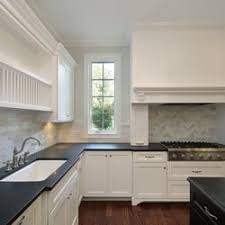 Today kitchens in modern Perth homes are a far cry from the kitchens most of us grew up with.
I can remember seeing socks hanging to dry on string stretched above the stove top, I also remember the cold winter mornings sitting around the kitchen table with my siblings eating bowls of porridge while our mum would be busy making our vegemite sandwiches for school lunch.
Dear mum would then braid the hair of myself and my three sisters before herding us into the "old bomb"( we called our car), to drive us to school. How embarrassing it would be as mum dropped us off right there in front of all the cool kids hanging around the school entrance, wearing her dressing gown and with curlers in her hair.
Modern Kitchens In Perth Today
Today my sisters and I are fortunate enough to live in beautiful homes with gorgeous kitchens.
With all the amazing modern gizmos that are available on the market today, we all still tend to favour the relaxed style of eating breakfast in the mornings with our families in our kitchens.
Whether we are sitting around a kitchen table in the middle of a farmhouse style kitchen, or we prefer to st on stools around the kitchen breakfast bar, we all enjoy the importance of starting each day with our families.
Today mum misses her "old bomb" which has been replaced by a "scooter" which she zips around in at the retirement village which she now calls home.
She loves to visit with her girls.
Today, with so many of us caught up in the faced paced lifestyle, a lot of families live in beautiful big homes, own a couple of cars, several electronic devices, kitchens with butler's pantry and wine cellars…………while working several jobs to pay for it all.
Take a little time out to spend with your family, while you can. Maybe share breakfast together sitting at the same table in the morning, maybe have a Mexi night where you all make your own tacos while sitting around the kitchen bench together or get dad to cook up a treat in the alfresco kitchen. Eating together as a family, is food for your soul.
If you do not have a kitchen in your home that gives your family the option to eat together indoors or outdoors, well I would suggest it is time for a change indeed.
Contact the team at Flexi Kitchens in Perth on 08) 9301 4200 and find out how easy it is to make some innovative changes to you kitchen.
March 1, 2019