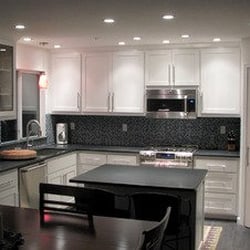 When it comes to entertaining at home, Perth kitchens are where the action is today. It was not so long ago that we all gathered outside on our deck, alfresco or patios to entertain our friends and family.
It was usually a case for the lady of the house to be trekking back and forth from the kitchen to the outdoor entertaining area, bringing various nibbles, drink refills and "what nots". Of course "His nibs" himself would be barking out orders from his position in front of the BBQ, as to what he needed brought out from the kitchen to help him with the charring of whatever food was on the BBQ,  usually he just needed another can of beverage but he could not tear himself away from the sausage "cremation" he was supervising.
Often the poor "lady of the house" was not included in the conversation and sadly, several drinks behind everyone else.
Those days are now gone, as most of the action is happening inside and around the kitchen.
New practical kitchen designs are bringing everyone back inside now, and understandably so.
With smart and practical kitchen designs, meal preparation for large groups of people is a breeze.
When you have a well laid out kitchen design with plenty of kitchen bench top space, as a hostess, you will have everything under control, and if your BFF wants to give you a hand in the kitchen, ask her to pour you a glass of wine.
When entertaining, the kitchen is where it all starts and ends, from food prep to washing up the dirty dishes, therefore, your kitchen design needs to be carefully planned for ease and efficiency.
For those who like to entertain, an island kitchen bench is the perfect focal point for kitchens designed with entertaining in mind. An island kitchen bench makes it easy for the host/hostess to chat to the early bird guests while prepping the food and then later the bench top becomes a useful large buffet service or a great bar top for mixing and serving drinks.
The kitchen really is the hub of the party, and afterwards the host/hostess is able to clean up while still chatting to guests and keeping a finger on the pulse at the same time.
Flexi Kitchens In Perth
If you love entertaining your friends and family, and you would prefer to be able to mix with your guests rather than feel like the maid, now is the time to chat to the people who know how to get the most out of any kitchen space.
Forget about DIY, you do not want to be waiting forever for the renovation, and remember how the flat pack coffee table looked last year when your better half insisted it would be a piece of cake to put together. No thank you!!!
For excellent advice and a free home consultation, call the team at Flexi Kitchens in Perth on (08) 9301 4200 and you will be amazed at how easily your kitchen can be transformed from "Drab to Fab", in such a short time span.
April 26, 2018