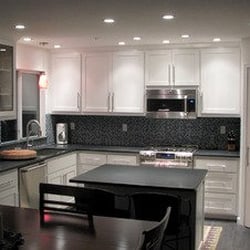 When it comes to enjoying spending time with friends over a meal and drinks, the ideal venue is your home.
Entertaining at home in Perth can be easy if you have a well equipped, practical kitchen with a clever layout.
The money saved on expensive restaurant meals, corkage and tips, can be put towards taxi fares to ensure everyone who wishes to indulge in their favourite beverage or cocktails, can then get home safely in a responsible manner.
Plan To Spend Minimal Time In the Kitchen
Hosting a dinner party at home can work very well when your group of friends take it in turns to be the hosts, it's all about the planning and optimising the work area in your kitchen.
Some practical tips for a successful dinner party include:
A well equipped kitchen
A great menu which has components that can be prepared the previous day
Background music
Mood lighting
Fresh flowers
Clean crockery, cutlery and glassware
Overstock on drinks and ice, it's better to have more on hand and you should not rely on guests bringing a bottle
 Another thing to take note of is the rest of the house, as people will most likely need to use the bathroom, so make sure it is clean, with plenty of fresh soap and hand towels
Ensure there is somewhere for your guests to hang their coats or handbags, umbrellas etc
Your kitchen should be clean and free of clutter on the bench tops, with an empty dishwasher and rubbish bin at the start of the evening
Any pet bowls and scruffy sleeping baskets/beds should be well out of sight
Showing Off The Perfect Kitchen
For those of you who have a gorgeous kitchen, you will want to show it off, so of course there will be the odd opportunity for you to ask one of your guests to help you by taking a platter of delicious fresh produce nibbles to the other guests, or maybe help you with some minor last minute preparation. Your friends will be eyeing off your awesome bench tops and quality kitchen cabinets, then naturally they will notice the the stunning glass splash back with overhead lighting!
Wow, what a great looking kitchen and so practical as well.
You will surely have your friends talking about your beautiful kitchen for quite some time to come. Therefore as all good friends will agree, you must share the secret of your fabulous dinner party success..…… Yes! It's all about the kitchen!
Your Flexi Kitchen in Perth, is the secret ingredient for all your entertaining and hosting occasions.
For more information on how to create the perfect kitchen space at home, contact Flexi Kitchens in Perth on 08 9301 4200
September 23, 2018