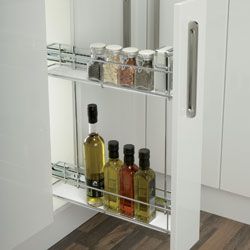 Today there are many older people opting to give up living in the large home they have spent years paying a mortgage on, to live in a less cluttered and smaller residence, quite often an apartment being the preferred option.
Living in a smaller home will have some storage challenges which is easily addressed with smart storage solutions as well as a robust cull and cleanout!
With this decision comes the need to downsize furniture, household items and collectables.
It is certainly worth making a list of what it is that you actually need in a home, to make it comfortable and afford you an easy lifestyle.
Years of habit can make it a daunting process to let go of possessions collected over many years, however it can be quite empowering to free yourself and start a fresh, clean slate.
You may find that there are some things your family may want to take off your hands before you start selling off the household items you no longer require…….allow them to go for it!
The Clever Flexi Kitchens
So now let's talk about the kitchen size in your new apartment. Yes it is much smaller to what you are used to, however with a clever layout, ample kitchen cabinets and smart use of available space, it will be practical and easier to keep clean.
Being a smaller space you will need to decide what are the important items that you actually use, and what are the items you have which are still in the box or that are kept just for special occasions.
Just imagine, what your dream kitchen should have in it and why, if you want a kitchen that is compact and practical, but also a beautiful space to look at, then you need to chat to the team at Flexi Kitchens in Perth.
The kitchen design team at Flexi have years of experience designing and crafting practical and beautiful kitchens with stunning cabinets and bench tops for their satisfied customers over many years.
From large designer gourmet extravaganzas to stunning compact apartment kitchens which are a stunning focal point in a tiny space.
Having adjusted to my own move to an apartment, I can tell you that I just love opening my kitchen cupboards and seeing everything laid out so neatly and visible, my drawers only contain items I use, my glassware gets used daily and my gorgeous kitchen bench top is always free of clutter, except for my fresh flowers and occasional glass of red.
Of course I still have my trusty microwave oven, kettle, toaster, coffee maker, chopping boards and knife block, you just can't see them until I need to use them and then, hey presto! There they are all together in their own special mini Butler's Pantry!.
For more ideas on creating the perfectly functional and gorgeous to look at kitchen for your small apartment, contact the team at Flexi Kitchens in Perth, they are always ready to help you with what you need.
September 26, 2018