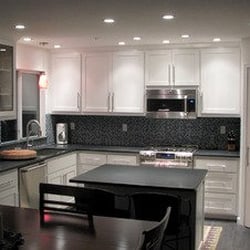 The kitchen is often considered the centrepiece of most modern Perth homes. No longer is the kitchen a room in the back where cooking is done and dishes are cleaned.  The kitchen has cemented itself as the heart of the home, a social area for homeowners, families and guests.   Most Perth homeowners want a modern home and a modern kitchen design, so it is important to consider what is needed to achieve a modern Perth kitchen.  Here are a few tips for creating a modern Perth Kitchen.
Storage
One of the main reasons that Perth homeowners consider renovating their kitchen is too much clutter.  To create a clean, modern look, a kitchen design must be uncluttered and functional, which requires adequate kitchen storage.  There are so many options when it comes to storage for a modern kitchen.  Some popular kitchen storage options are appliance compartments, pull out drawers for spices and drawer or tray dividers.  A new kitchen design should always include plenty of functional storage that is easy to access and offers plenty of space.
Colours
One of the most important decisions when designing a new kitchen comes down to the colour choice. When it comes to modern Perth kitchens, white is still a favourite for kitchen walls, kitchen cupboards and kitchen benchtops!  White creates a certain level of elegance and makes a kitchen look clean and stylish.  White also tends to make a kitchen look less cluttered. Another popular colour choice for a modern kitchen is grey because it is a very versatile colour. Both grey and white work well when matched with natural colours and so has remained a popular colour choice for kitchens for a few years!
Appliances
For a sleek, modern kitchen design, appliances should be matching.  A popular trend for kitchen appliances is grey coloured appliances with a dark brushed metal finish.  Stainless Steele appliances are still popular and look great in a modern kitchen.
Flooring
There are many options when it comes to kitchen flooring. A great look for a modern kitchen is hardwood flooring.  Another popular choice for the kitchen floor is ceramic tiles which are a bit easier to maintain but still provides the sleek, modern appearance.
Smart Kitchens
A relatively new aspect of a modern kitchen is the smart kitchen.  Technology can now be integrated into the kitchen for added convenience to the homeowner.   Every appliance and function in the kitchen can be operated through smart technology, from lighting to taps!
The team at Flexi Kitchens in Perth know how to design and build modern, sleek, functional kitchens for Perth Homes.  With skilled craftsmen, Flexi Kitchens always provides an exceptional level of service and quality products.  The Flexi Kitchens team have been designing and building beautiful kitchens for the people of Perth since 2001.  Contact the friendly team at Flexi Kitchens to find out more on ph (08) 9301 4200
June 1, 2018