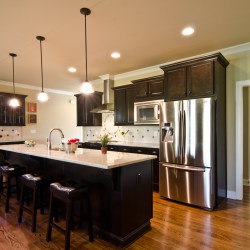 The kitchen is one of the most important rooms in our Perth home, as it services the whole family on a daily basis.
Whether you are looking at building a new home or you want to renew the kitchen in an established home, it is crucial that you do your research thoroughly to see what options are available to you.
A starting point would be to write down the things that you can not do without in a kitchen and then on a separate list add the things that you don't need but would love to have.
After establishing your priorities in your ideal kitchen, it is time to go and look at some display homes in Perth and see what the latest trends and ideas are for kitchens, there are sure to be new ideas that you will love.
There are many various home magazines which cover all the latest trends in kitchen design and innovative storage ideas.
Spend a little time researching, and you may discover some great practical ideas that you had not thought of.
A Quality Built Kitchen In Perth Will Stand The Test Of Time
When you are looking at the various options for new kitchens in Perth, make sure that the craftsmanship and materials are of a high standard.
Kitchens get a lot of traffic and therefore the work benches and cupboard doors need to be durable and easy to keep clean.
Avoid kitchen cupboard doors that hang from dodgy hinges, especially the corner cupboard doors, and make sure that kitchen drawers are strong enough to hold a full set of cutlery, if you want pot drawers, make sure that they are deep enough and strong enough for your largest pot.
You can Trust The team At Flexi Kitchens In Perth
The team from Flexi Kitchens Perth, will actually come to your home, accurately measure the space you have available and then discuss in detail with you, what your wishes are for your dream kitchen and how to best achieve that outcome.
This free home consult service is just one of the many reasons that satisfied customers recommend Flexi Kitchens Perth.
You will be amazed at how simple the whole process will be from the time you select your new kitchen layout, kitchen cupboard door designs and fabulous bench tops.
Make it easy for yourself contact the friendly team at Flexi Kitchens Perth (08) 9301 4200 and find out how you can get your dream kitchen in your home.
December 12, 2018