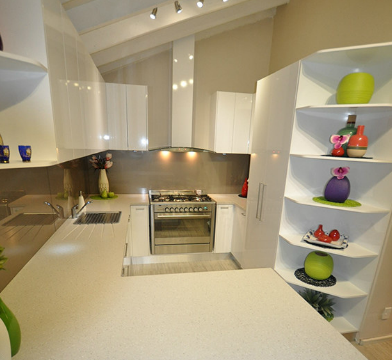 Kitchen Renovations
Renovating a property for profit is still one of the best strategies for many people who want to enter the real estate market. This is one of the reasons why kitchen renovations in Perth homes are so popular, because kitchens sell houses.
So if you are ready to buy a cheap home and flip it for profit, here are a few solid tips to keep in mind for your Perth kitchen renovations.
Where To Spend Your Money For Profitable Makeovers In Perth
There are four key design areas where you need to spend your money in a kitchen that you are renovating for profit: kitchen appliances, drawers and hardware, kitchen bench tops and quality workmanship.
Appliances: You want good quality, stainless steel kitchen appliances that look great and will stand the test of time. Obviously, you want a self-cleaning oven, maybe a separate grill and oven, and a built-in kitchen dishwasher. These are the fundamental kitchen appliances that need to be installed when you put the property on the market in Perth.
Drawers and hardware: Soft closing doors are a great selling point, but you also want deep kitchen drawers for pots and pans and good looking handles as well.  The handles don't have to be expensive, so long as they match the design of the kitchen cabinetry.
Benchtops: To be honest, if you install stone benchtops in all of your kitchen makeovers (rather than laminate), you can't go far wrong, as this can be the difference between flipping your property for a substantial profit or having it languish on the market.
Fine workmanship: Flat packs always look like flat packs and expert workmanship can be seen a mile away. So always purchase your kitchens from a reputable company and have them installed professionally.
Where To Save Your Money In Perth Kitchens
Once you have the designs and fundamentals organised, there are three key areas where you can now save money and still have a kitchen design that will help to sell your property.
Cabinet and draw fronts: Don't go for complicated cabinet doors that cost a lot of money. You need high qualitycabinetry, but save by choosing plain doors that simply look great and spend your money on other areas of the kitchen.
Trendy gadgets: Forget the built-in wine cooler, the coffee maker or the steam oven. These are all fabulous gadgets, but unless you are renovating a million dollar property, you won't see a return on your money.
Splashbacks: Tempered glass splashbacks are still popular and are one of the easiest and quickest ways to renovate kitchens. Have them professionally measured and installed, so it only needs to be done once.
For high quality service and affordable renovations in Perth, call Flexi Kitchens on 08 9301 4200 or complete our online enquiry form.
June 14, 2016