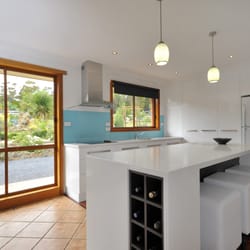 Kitchens in modern homes play a major role in the daily routines of most Perth families, therefore it is essential to have a kitchen design that is practical as well as beautiful.
Kitchens are the hub of most family homes, as we start our day with breakfast and all the hustle and bustle that goes into preparing for our busy days.
Some of us, are back in the kitchen again later in the day, grabbing something to eat at lunchtime, afternoon tea and of course then again to prepare the evening meal for the family.
Simple Home Entertaining With Functional Kitchens In Perth
Another important factor to include when considering the impact our kitchen plays in our lifestyle today is that a lot of us now choose to entertain at home.
The cost of dining out, drinking alcohol, taxi fares and baby sitters can really put a dent in your budget.
It makes sense to entertain in the comfort and privacy of your own home, when you have a well equipped kitchen to work from.
Flexi Kitchens Perth
Who are considering updating your current kitchen, contact Flexi Kitchens in Perth, they really are the ones to talk to when it comes to innovative design ideas and quality workmanship.
The team at Flexi Kitchens in Perth can create a beautifully functional kitchen for you which will be custom designed to suit your specific lifestyle needs.
It is amazing at how simple Flexi make it for you, with very little disruption to your daily routine.
Excellent customer service is integral to their business and therefore the team from Flexi will take the time to come to you and discuss space that will become your new kitchen where they are able to:
Accurately measure the kitchen space for your renovation
Discuss your kitchen renovation project and layout needs while you are in the room itself, making it easier to remember all the things that you need to include in your new kitchen renovation project
Take the time to understand your kitchen renovation needs without disruption
Illustrate kitchen design ideas that could resolve your most difficult kitchen design challenges
The hardest part of the whole process will be deciding what colour benchtops to choose.
Contact them today on (08) 9301 4200 to find out how they can make your kitchen renovations a smooth process.
February 25, 2019