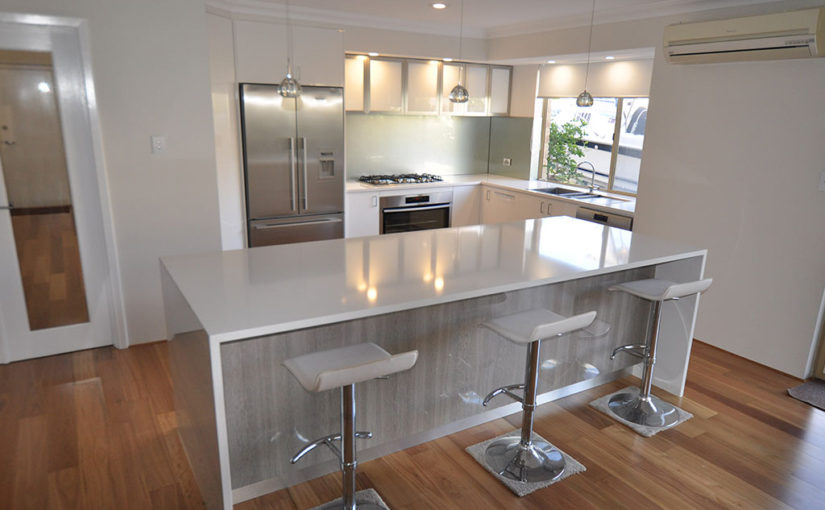 For most Australian homes, the kitchen is very heart of the home.
We all gather there at various points during our days, whether we are grabbing a quick brekky, preparing lunches or a snack to go.
When our kitchens are buzzing with chatter and the kettle has boiled, freshly baked scones with jam and cream on the bench, we know it is time for a cuppa.
The cuppa is still one of our favourite things to do with our friends at home.
 Changing Designs For Kitchens In Perth
With the fast paced lifestyles that people are faced with today, our kitchen designs are evolving to meet our needs.
The compact kitchen design idea is no longer suitable for most of us who have two working parents, school age children, the pets and of course our extended family and friends who are frequently in and out of our homes.
Today we need the big fridge, the chest freezer, the big microwave, the dishwasher as well as several hand held appliances that make our time in the kitchen, so much more productive.
Then of course we need the walk in pantry with plenty of shelving, durable cabinets and drawers with stylish easy care finishes, hide away bin and somewhere to put the kettle so it is easy to fill and plug in without having to walk far from tap, to water to power outlet.
The choices we have today in our kitchen designs make allowances for those of us who prefer to have a kitchen bench that doubles up as a breakfast bar or those who want an island work bench, country style designs with plenty of space for a set of table and chairs for casual meals.
Quality Kitchen Finishes
Whatever kitchen design suits our lifestyle in Perth needs, the one thing is certain, is that we all want quality craftsmanship with smart, creative kitchen ideas.
Flexi Kitchens in Perth are well known for their standout kitchen design, create and install process.
Not only do they come to your home to measure your kitchen space, but they listen to your kitchen design ideas, they understand your needs for your perfect custom designed and built kitchen.
Flexi in Perth, produce kitchens to the very highest standard, with every detail taken into account to make sure your dream kitchen not only functions perfectly, but it looks absolutely fabulous as well.
So if you are looking for a premium kitchen, then you need to chat to the premium kitchen experts. Give Flexi a call and chat to one of their friendly staff about a free home visit and quote for your new kitchen project in Perth.
Pop on the kettle and chat over a cuppa.
See for yourself how Flexi Kitchens Perth can create a beautifully functional quality kitchen for you.
Contact us on (08) 9301 4200.
March 16, 2017