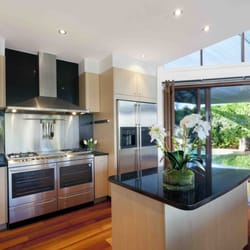 Here at Kitchens Perth in WA, we understand that life is so much easier with a modern, practical kitchen design which meets the everyday needs of you and your family.
It is all very well to have an immaculate kitchen with top of the range fittings and finishes, but if you don't have enough cupboards, or the pantry shelves are not deep enough you will be disappointed and become dissatisfied very quickly.
The kitchen is a main event in any home, we all use the kitchen several times a day, whether for meal preparation, grabbing a drink, a cuppa or just leaving notes on the fridge, the kitchen is the hub of most WA homes.
Most of us love to entertain our family and friends at home, and this is such a breeze when you have a kitchen that has a smart, functional design, however if your kitchen design does not serve you well, you will be less likely to enjoy having family and friends over for celebrations that involve gathering in the kitchen to share the preparation of meals or salads for the BBQ.
Often half of the fun for the hostess is showing off her skills in the kitchen, made so much easier when the kitchen is set out to provide plenty of bench top space, well located utensil storage, easy reach shelving, smart positioning of power outlets and sensible spacings between the fridge door and the walk way.
Kitchens do not have to be big to be functional, it is all about optimising the available space and implementing clever storage solutions.
Flexi Kitchens Perth Are The Kitchen Design Professionals
Our team at Flexi Kitchens Perth have been designing beautiful practical and functional kitchens for WA families since 2001.
We strive to give every customer the personal touch, and that is why we arrange a no obligation, at home consultation during which our designers will talk to you about your kitchen dream, measure up your available space and take you through the many kitchen cabinetry styles and layouts that would become your perfect kitchen.
When you choose our team to design and create your perfect kitchen we will :
Come to your home to measure your space, discuss your ideas and needs for your perfect kitchen.
Welcome you to inspect our work at any of our showrooms.
We will present you with a full 3D representation of your new dream kitchen which has been fully costed to the last screw.
You will be provided with a project timetable that will keep you fully informed throughout the whole renovation process.
We will give you a completion date and deliver your new kitchen on time.
The installation of your premium kitchen is included in the price.
We can guarantee the quality of your kitchen from the first design idea to the final fitting in your home.If you are ready to make your life a lot easier with a new kitchen design that meets your particular needs, contact us here at Flexi Kitchens in Perth, you will be amazed at what we can do for you.
January 2, 2018