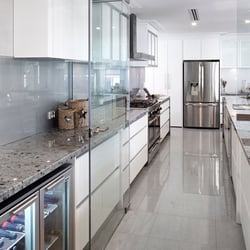 Kitchens Perth are all about the latest kitchen design ideas and innovative kitchen storage ideas.
We all know how much easier life is i n the mornings when we have a smart kitchen design to work in, with the mornings being a breeze as the family come together to get ready for their day.
Plenty of room on the kitchen bench top to prepare lunches for school and work, toaster and kettle within easy reach as well as adequate casual eating space for the family.
Customized Kitchen Renovation V Flat-pack Kitchens
Have you considered the differences between installing a flat pack kitchen or engaging the professionals?
At first, the initial costs of a flat pack kitchen may seem to be cheaper than a customised kitchen renovation and installation for your home.
The problem with choosing to do the job yourself, is when problems arise and walls and floors are not even ( as is often the case) and your skills can't cope with these problems, you can end up spending more money on fixing your expensive mistakes.
Why waste your valuable time trying to do something that the experts at Flexi Kitchens in Perth can do in no time at all?
It is so much easier and a lot less stressful to engage the experts at Flexi Kitchens in Perth.
With our team of kitchen renovation experts and craftsmen, we will give you perfect custom cabinets.
The team at Flexi Kitchens give you an installation date and we stick to it.
We deliver and install the kitchen of your dreams on time.
Kitchens Perth Are The Easy Way To Move Forward Into A Functional Modern Kitchen
When thinking about what you need in a kitchen that meets the needs of your family, choose a Flexi kitchen design and you choose to work with industry experienced designers.
Flexi Kitchens Perth have been designing, creating and installing creating outstanding kitchens in Perth since the turn of the century.
Our team here at Flex don't just listen to what you are looking for in a kitchen design.
We provide our customers with invaluable insight into which style ideas will result in the most successful kitchen for the modern lifestyle and function.
Flexi kitchen designers ask you things such as:
Are you going to keep your current kitchen shape?
Are you happy with the current layout?
Will you need to move cabinets, walls or plumbing?
Do you need a casual eating and dining area?
How many people like to cook in your kitchen?
Do you need to accommodate an appliance cupboard or a beautiful new wine rack?
Would you prefer a larger walk in pantry?
What styles are going to match or enhance your existing decor?
If you are ready to move forward with your new kitchen, contact us here at Flexi Kitchens Perth for your free at home consultation with one of our team today on (08) 9301 4200.
May 14, 2017