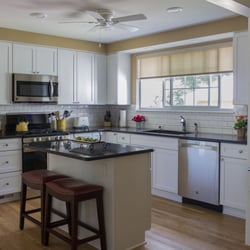 Kitchens Perth really do get a work out over the easter holidays.
How did your kitchen design stand up to having everyone over at Easter this year?
Was your kitchen at home as big and as functional as you would like it to be?
Most of us love entertaining at home, but many kitchens in Perth homes are just too out-dated and unorganised to function well when we have lots of people over for meals.
Many kitchens in Perth have a similar problem, the lack of usable bench space in the kitchens.
Kitchen bench space, is very important when you have a large dinner party or celebration to prepare in your kitchen.
Also, people like to congregate in the kitchen and chat with the host or hostess, sometimes even pitching in with some last minute help in the kitchen with the food preparation.
Often we find that electric kitchen appliances are taking up a lot of valuable kitchen bench space, with people needing to put their microwave ovens, food processors, coffee machines, sandwich maker, toaster and kitchen kettle somewhere within easy reach.
Some of us may need to walk to the laundry to get something from the freezer or we have our kitchen bin sitting in the open just waiting for the dog to knock it over and rummage through the dinner scraps.
A lot of us would love a dishwasher in our kitchens but have not the kitchen space to install one.
Is It Time For A Kitchen Makeover With Flexi Kitchens Perth?
Is it time to treat yourself to a brand new Perth Kitchen Design?
A new kitchen design from Flexi Kitchens Perth will not only make your life so much easier, but will also increase the value of your home should you sell in the next few years.
All of our quality Flexi Kitchens Perth kitchen design ideas are created by our team of experienced professionals.
The kitchen design and kitchen layout are chosen by our clients and are then constructed by our team of master craftsmen in Perth.
We will come into your home to look at your available space and the current layout of your kitchen and then create a customised kitchen, tailored to suit your family's needs.
Flexi Kitchens Perth renovations will transform your Perth home, increasing the market value while giving you the benefits of a well organised clever kitchen layout and kitchen cabinet design.
The family home needs a kitchen design that is family friendly, functional and fabulous.
Depending on the space you have available, we can add a walk-in kitchen pantry, a kitchen breakfast bar for casual meals and design ceiling height kitchen storage cabinets.
The functionality of our modern kitchens at home is all in the design and we have been designing Perth kitchens for many years – so we can give you exactly what you want.
So if you are ready to move forward with a fabulous new modern kitchen, contact Flexi Kitchens Perth on 08 9301 4200 or contact us by completing our online enquiry form.
May 9, 2017