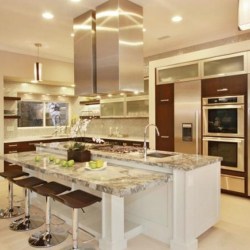 With so many cooking shows on TV these days, it is no wonder that cooking fine food in our kitchens Perth is becoming very popular.
For those of us who love to entertain and enjoy great food at home, cooking for guests in the right kitchen design can mean the difference between divine food or average food.
If you love to entertain in your home or you are a lover of great food then these top end kitchen must-haves will interest you.
Open Plan Kitchens Perth With Breakfast Bar Overhangs
The popular open plan kitchens in Perth, are well suited to stone waterfall ends on kitchen islands or breakfast bars.
This will bring the party into the kitchen.
Attractive and packed with practical uses this design provides a little extra comfortable seating for guests when entertaining.
The Under Kitchen Bench Wine Cooler
You don't have to be a wine connoisseur to include a wine fridge in your kitchen.
Built-in & under counter wine refrigerators are available in half sizes.
Wine coolers are a great investment and are so very easy to install.
They are very useful if you love wine and want to save your precious bottles from the heat of an Australian summer.
Your guests will be impressed, when you oxidise wine in a decanter first and then serve it in a sommelier glass.
Walk in Pantry
Every serious new kitchen design in Perth has a good sized walk in pantry.
A good kitchen pantry design needs to have good quality lighting and easy to reach shelving in various heights with a sturdy step ladder to reach the top shelves.
Smart Cabinet Design And Storage Solutions
Flexi kitchens will keep your new kitchen clutter free with an appliance cupboard hidden by hinged, bi-fold or lift-up doors.
Hide your kettle, toaster and sandwich maker in your kitchen appliance cupboard.
Roller door cabinets have the added advantage of allowing you to use the entire space in front of your appliance cupboard.
By having electric sockets inside, your appliances can be plugged in.
If you want to use the espresso machine, kettle and toaster all in the one go you will need at least one double socket.
Today there is the option to have power points that rise from the kitchen island when needed.
Fresh Herbs From Your Own Hanging Herb Garden
How often do we need fresh herbs from our garden?
We all know fresh is best, so it makes sense to grow our own.
When cooking with herbs, the fresher the better.
We can avoid daily trips to the market by putting in some hanging pots over the kitchen sink at home.
What a great idea to have our very own hanging herb garden in front of the kitchen sink window.
Perfectly positioned to get the sunlight through the window, and be watered from the kitchen sink tap.
So there,s some food for thought!
Flexi Kitchens Perth
Here at Flexi Perth, we can help you with all your home renovation project ideas.
We have many innovative and exciting ideas for your new kitchen design, home renovation project or bathroom design solutions.
Call us now on (08) 9301 4200.
April 18, 2017