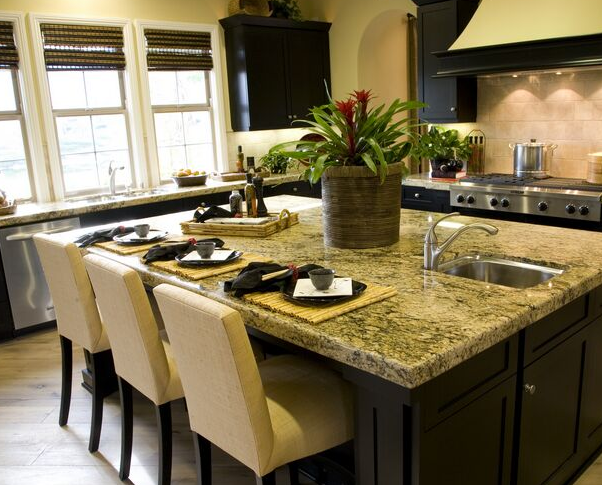 I think most people will agree with me when I say that the kitchen is the most important room in the house.  The kitchen is the social hub of the home where family and friends come together to eat, cook, drink and chat.  It doesn't matter what age your children are, the kitchen seems to be the place to hang out!  For many families, kitchens are not just about food.  I don't know about you, but my kids do their homework in the kitchen, play with toys in the kitchen and we also leave reminders and school notes in the kitchen.  The kitchen really is a multi-purpose, central room where a lot of things happen!  In my opinion, it has never been more important to create a family-friendly, functional kitchen that works for the cook and everyone else!  Here are some tips on how to do design a family friendly kitchen:
A practical cooking space
As children grow up, most of them enjoy dabbling in a bit of cooking in the kitchen.  As a mother of two beautiful children, I can honestly say what a joy it is to watch my own children build their own cooking repertoire.  I find the best way to encourage children to cook is to make things accessible in the kitchen.
Keep the microwave low so kids can reheat things themselves.
Have durable bench tops that can be easily cleaned and won't stain.
Include stools so kids can sit on a stool to reach bench tops or lower the height of counters.
Child-friendly storage
Dedicate a drawer or cupboard in the kitchen that can be easily accessed by children.  You can keep all plates, bowls, cups, and cooking utensils that they use in here.  This will allow your children some independence in the kitchen which is great for their confidence!
Dedicate a space for non-cooking activities
When you are thinking about your kitchen design, it is important to allow space for non-cooking activities to occur.  In my kitchen, I have a kitchen table where the kids do their homework while I cook dinner.  A study nook just off the kitchen would also work.  This non-cooking area of the kitchen must have plenty of power points because as the kids get older they will most likely be using laptops in this area!
Create a family organisation area
Most modern families lead busy lives, therefore placing a family organisation area in the busiest room of the house can keep a busy family informed and organised!  This area of the kitchen should have room for a notice board, white board, and a calendar.
Easy to clean kitchen
I think most parents can relate to this kitchen tip!  As most parents know, the cleaning never ends – especially in the kitchen!  However, selecting the right kitchen design can reduce your cleaning time.  For example, porcelain tiles on the floor of the kitchen are easy to keep clean, semi-gloss paint is easier to clean than gloss paint etc.
Flexi Kitchens Perth
If you would like to know more about how to create a family-friendly kitchen, contact our friendly team at Flexi Kitchens.  We can custom design, make to measure and fully install the kitchen of your dreams in your Perth home.  Call Flexi Kitchens today on (08) 9301 4200 or visit one of our showrooms in Myaree or Joondalup.
May 2, 2018