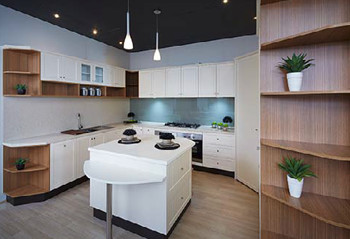 Perth Kitchen Renovations – If you've been toying with the idea of renovating your kitchen, you'll understand how many different factors there are to consider. Before taking the plunge, it is important to consider how you're going to use the space and what kitchen design will complement your lifestyle and current décor first. We've decided to list a few of the common kitchen design ideas that we see to assist you in making the all-important decisions.
Vinyl Wrapped Doors
Vinyl wrapped kitchen doors are great for those wanting to add a feature to their kitchen as they allow you to have a carved look, with many different options available. Vinyl wrapped doors are also popular they have a seamless look. The vinyl is heat shrinked around the board, meaning there is no edging required. People who are after a modern-traditional look generally prefer vinyl wrapped doors, as they create a "country" feel, without looking dated.
Acrylic Benchtops
Corian® is a hugely popular material for kitchen benchtops these days, as it looks like stone, without carrying the same price tag!  Corian® is a blend of natural minerals, pigments and polymer that can be moulded to a variety of shapes and thicknesses. Corian® also has many other benefits such as:
Seamless Kitchen Benchtops – Yes, that's right, seamless! Corian® is ideal for large benchtops, waterfall ends, upstands and unique spaces as it can be moulded and joined together without any seams to look like one piece.
Stain Resistant Kitchen Benchtops – We all know that the kitchen bench gets a lot of use. Unlike other benchtop surfaces, Corian® is non-porous, meaning spills and mishaps won't permanently damage the surface. Imagine not having to worry about that spilt red wine or beetroot leaving a nasty stain on your bench?
Formable Kitchen Benchtops – Corian® can be used in a variety of applications and because of the unique way it is manufactured and installed, the possibilities are endless in terms of size, style and shape!
Repairable Kitchen Benchtops – Most accidental damage to your Corian® benchtop can be repaired on site, without replacing the entire benchtop. Plus, there's a 10 year warranty if your Corian® benchtop is installed by a certified fabricator and installer.
Sculleries
Once viewed as a luxury for the rich and famous, sculleries or butlers pantries are becoming more and more popular in Perth kitchens. A scullery is essentially a secondary kitchen, and previously it was the food preparation area for the cooks and maids. Nowadays, a scullery is more likely to be a large walk in pantry, with a bench top and possibly a sink. It's a great option for those who like to entertain, but don't want their dinner guests to see what messy cooks they are.
It also provide additional storage space for the masses of appliances households have these days, such as kettles, toasters, blenders, bench mixers, coffee machines and the like. 
Drawers over Doors
Many people are steering towards the option of having all kitchen drawers throughout their kitchen, instead of just a bank of 4 drawers for their cutlery and utensils. The benefits of having drawers is that it allows you to utilise the full depth of your cabinetry without compromising access. No longer will you be on your hands and knees fishing for the Tupperware lids that have fallen to the back of the cabinet! There is also a wonderful range of drawer inserts to help keep you organised, including crockery holders to stop your fragile items from slipping back and forth each time you open and close the drawer.
Sometimes the endless choices can be overwhelming and you may prefer to discuss your options with a professional. Flexi's kitchen renovation designers have years of industry experience and are able to assist you in making the right choices for your home. They can come visit you in the comfort of your home, and bring a huge range of colours and samples, and discuss the many kitchen design ideas available.
Perth Kitchen Renovations
To arrange a consultation with one of Flexi's kitchen designers to discuss Perth Kitchen Renovations, simply call 9301 4200 or send an email to info@flexi.com.au.
August 17, 2015