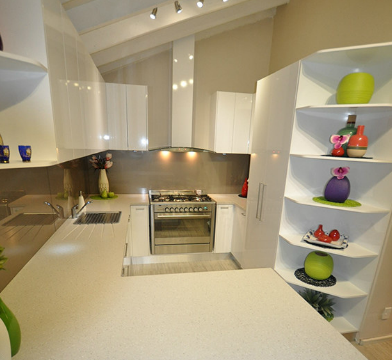 Design Ideas For Your New Kitchen Design
The Stock Kitchen
Planning a new home is an exciting time in your life, not least because you will be overflowing with kitchen design ideas. In your new home, everything will be brand new and designed to your specific tastes, so it is a shame to stick with the stock kitchens that most developers or builders offer to their clients.
Display Home Kitchen Versus Everyday Living Needs
These stock kitchens may look nice in a display home, but they often don't fulfil all of your kitchen design ideas. After all, who wants to put up with a kitchen design that is cramped and not laid out in the way that you had envisaged?
You might not realise, but you don't have to put up with these stock kitchen design ideas. Developers source their new house kitchen fittings from just a few suppliers, so they can keep their costs down. This is fine for the developer, but if their selections don't suit your design ideas or your lifestyle, then they won't be fine for your new home.
Kitchen Wish List
Some of the kitchen design ideas you should consider when you are viewing the developer's kitchen options and planning your new kitchen include:
Is there enough room for the size fridge you want and to open the fridge door without feeling cramped?
Where is the sink situated? Do you want it under the kitchen window so you can look out on the garden or would you prefer that it is located on the island bench?
Is there room for a kitchen bin? No-one wants a bin stuck in the kitchen where everyone can fall over it, so is there room to have a built-in bin in the display kitchens?
Do you want a wall oven or an oven that is located underneath the stove and built into the kitchen units?
Can you find a colour option that fits in with your design theme?
These are just some of the many questions that you need to consider when you are inspecting the design options for kitchens offered to you by your developer. It is a good idea to always keep your own kitchen design ideas at the front of your mind, so you are not swayed by the options offered to you by the developer.
You should also wander through the display homes and look through kitchen magazines, so you have a clear understanding of your own thoughts on your perfect kitchen. Once you know what you want in your new home, then you are in a good position to approach your builder or developer and discuss making changes to the proposed kitchen.
If none of the developer's choices suit your needs, then you can look elsewhere for a kitchen supplier who can give you your dream kitchen.
At Flexi Kitchens we are happy to discuss your kitchen design ideas for your new home. Simply call us on 08 9301 4200 or complete our online enquiry form and we will arrange a time to visit.
April 14, 2016