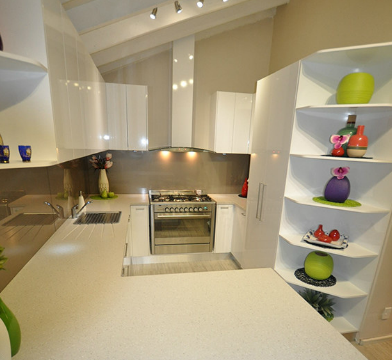 Anyone that has been involved with kitchen renovations knows that it can quickly become expensive.  Most people want to save money where they can without compromising on quality. The team at Flexi Kitchens in Perth provide premium quality kitchens on time and on budget.  They understand that customers these days want to save money where they can, while still receiving exceptional customer service coupled with exceptional quality. Here are a few tips on saving money on kitchen renovations:
Tip no. 1 – Keep is simple
A great looking kitchen doesn't have to be complex in design.  When it comes to kitchen renovations, sometimes less is more.  A simple kitchen design can look fantastic and keep costs down when done right.  One way of doing this is to keep the cabinet sizes the same.  This can save money while creating a symmetrical and modern look.
Tip no. 2 – Carefully consider door finishes
There are a number of options these days when it comes to door finishes.  The finish chosen can largely affect the cost of a kitchen.  There are some finishes that look great without costing a fortune.  Those wanting a modern looking kitchen can choose laminate without handles which can be an economical choice.  Laminate finishes are available in an ultra-matte finish, a sheen finish and a textured finish for different options.   Timber is a popular choice amongst many people.  Solid timber can be very expensive, but luckily there are many finishes available that closely resemble timber without the big price tag. Opting for a timber look finish is an ideal way to save on kitchen renovation costs without impacting on the look or quality of the kitchen.
Tip no. 3 – Choose appliances carefully
Kitchen appliances are an important part of any new kitchen. The appliances that people chose can largely affect their renovation budget.  When choosing kitchen appliances, it is always best to stick to a reputable brand whilst opting for their lower range products. That way people can have the assurance of a high-quality product without overlaying for unwanted features.
There are a number of ways to save money on a kitchen renovation without compromising on quality.  People in Perth that are considering a kitchen renovation should get in contact with the friendly team at Flexi Kitchens in Perth.  They design and create beautifully functional kitchens custom made to exceed customers expectations.  They have showrooms available in both Myaree and Joondalup so people can see their fantastic work first hand.  Contact Flexi Kitchens in Perth to find out more.
August 24, 2018