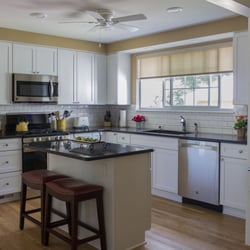 Flexi Kitchen Renovations In Perth
For those people who love living where they are, but are not happy with their bathrooms and kitchens, the easiest answer is to renovate with a reputable company who understand the importance of kitchen designs that are practical as well as beautiful.
The team from Flexi in Perth have been renovating kitchens and bathrooms in WA homes for many years and specialise in custom designs that reflect the individual needs and style tastes of their many satisfied customers.
Whether you are sure of exactly what you want and need in your perfect kitchen, or you need to discuss what options are available to you, Flexi offer a home consultation service where you can discuss everything about your particular kitchen needs, including quote and delivery time.
It really is so easy, once you've decided on the design for your kitchen renovations, it's time to pick colours and materials.
The team at Flexi believe that their customers deserve excellence and therefore they never compromise on quality and they always deliver on time.
Their state-of-the-art computer aided kitchen designs combined with their deadline driven manufacturing process means they can minimise disruption and keep their customers fully informed of the entire process throughout their kitchen renovation project.
To be fully effective, the team at Flexi kitchen renovations take into consideration all of the things that make you and your kitchen design unique.
Flexi Home Consultation Service
The industry experienced kitchen designers at Flexi will meet with you in your own home so that they can accurately measure and advise for your kitchen renovation, showing you some ideas that may work well within your planned kitchen footprint.
Your team from Flexi will:
Take the time to understand your new kitchen needs and frustrations
Show you the vast selection of kitchen styles and colours available for your renovation
Help you make selections and find solutions that compliment the style of your home and the kitchen design of your choice
A second appointment is then made during which all of this information is used to:
Create a 3D computer model of your new kitchen design, outlining all kitchen renovations
Provide you with a quote for your new kitchen cabinetry design based on the colours and materials you have selected
For more information or to set up a home consultation, contact the team on (08) 9301 4200.
June 11, 2019