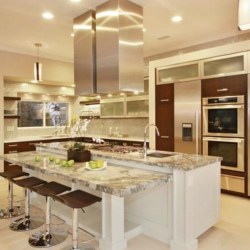 Flexi Kitchens have been designing and installing awesome kitchens in Western Australia for nearly two decades, and they make the whole process an easy, stress free process.
The team at Flexi can help make life a little easier for you when you are balancing your busy daily work routine with endless home duties, by streamlining your meal preparation time in the mornings and evenings.
They can transform your cramped kitchen space into a spacious meal preparation area with all the innovative storage space and work area you need.
These days many families enjoy preparing meals together, proving to be a great quality time opportunity with the kids and enormous help for the regular family cook!
Giving Kids A Healthy Start In The Kitchen
Giving kids the opportunity to help prepare meals in the kitchen is a great start to teaching them about healthy food choices.
There are other substantial benefits from families preparing evening meals together including:
Families bond, connect, and learn from each other while chatting in the kitchen
This is a fun family event that nurtures love and the sense of belonging
Preparing meals together is a learning experience for those younger members of the family as well as parents
A great opportunity to introduce new foods and interesting recipes in a fun and light hearted manner
When the whole family is involved in menu planning, grocery shopping, and food preparation, children learn the basic necessities to be self sufficient
Under supervision, the little ones can tear lettuce, cut bananas, fold napkins, older children can peel vegetables, teenagers can dice, chop, bake, and grill, what a great team effort.
Flexi Kitchens For Innovative Kitchen Design Ideas
Flexi make transforming your kitchen into a gorgeous, modern work space to suit the specific needs of your family, an exciting time, without any stress.
All you need to do is contact them for a free home consultation and quote, and let them handle the rest.
The team from Flexi have been doing this for a long time, and they understand how important the kitchen is in any home and they know how to optimise the space to create the ideal kitchen design for each individual family's lifestyle needs.
For innovative design ideas, the highest quality in craftsmanship and outstanding customer service, contact the team on (08) 9301 4200.
July 28, 2019