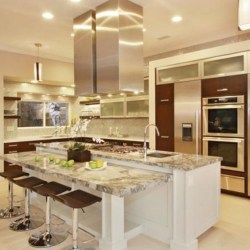 How much will it cost to install a new kitchen? This is a question that many homeowners in Perth tend to ask. This is a very difficult question to answer because there are so many different variations in new kitchens. Some people are just looking to replace their kitchen bench tops or kitchen drawers whereas others want to go the whole hog and have the whole kitchen pulled out and replaced. People need to consider a number of factors when trying to decide whether they can afford a new kitchen or not. Here are just a few:
Removing the old kitchen
Many people that are considering a new kitchen design often forget that the old kitchen needs to be removed! Removing the old kitchen can sometimes cost money or on the other hand, it can also make people money! People can either choose to pay someone to remove the old kitchen or they can try to sell it. There are many people out there looking for a second-hand kitchen. Some tradies like to buy old kitchens and reuse the parts. Some people even remove the old kitchen themselves, and spend a little time renovating it so that they can sell for more money!
Divide kitchen into sections
An easy way for people to gain an idea of how much a new kitchen design will cost is to divide the kitchen up into sections. This makes it a little bit easier to work out an overall figure for a new kitchen! People can even assign separate budgets for each section such as the kitchen floor, kitchen appliances, kitchen counter tops, splashbacks etc.
Accessories
Most people see their smart new kitchen and decide they need new kitchen accessories to match! While it is not always necessary to purchase new accessories for a new kitchen, it is important to consider it. New accessories tend to add up and so if people plan on buying new accessories they will need to budget for it. For those that have a tight budget to stick to, they could consider purchasing new accessories further down the track.
Have a budget
An important part of getting a new kitchen design is setting a budget and sticking to it. The great part of having a budget is that it gives people something to save towards. It is always a good idea when setting a budget to allow for a little extra. This allows people a little space to breathe in case something costs more than they think, or unexpected expenses crop up!
The team at Flexi Kitchens in Perth can custom design, make to measure and fully install the kitchen of your dreams on time and on budget. Flexi Kitchens WA will come to you, make measurements and discuss your kitchen needs. The team at Flexi Kitchens are then able to Illustrate kitchen design ideas that could resolve your most difficult kitchen design challenges. Contact us at Flexi Kitchens in Perth to find out more.
Flexi Kitchens Joondalup WA Showroom Ph 08 0301 4200
Or
Flexi Kitchens Myaree WA Showroom Ph 08 9317 6688
May 24, 2018