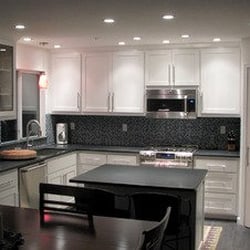 With summer almost here, many of us in Perth, are starting to think about kitchen renovations again.
Yes, this is the time when it really does become noticeable, just how little room we have in our kitchens for a decent size fridge. I am talking about somewhere to put the salads, cold meats, desserts, nibbles as well as the milk, bacon, eggs and juice for brekky in the morning.
The kitchen fridge had become a contentious issue for hubby and I. His priority was to provide ample cold drinks, to the detriment of food that should be refrigerated.
With the regular fridge/freezer in the kitchen, the spare fridge in the garage ( for the cartons of much needed beverage ) and of course the drinks fridge on the outdoor deck, it would appear that the laundry sink is also needed to be filled with ice, just in case an unexpected guest arrives without an esky.
This does sound excessive, however it was the norm at my place for many summer Xmas and New years get togethers. Summer seemed to be one long continuous celebration at our house and I was beginning to dread it!
I love entertaining friends and family at home, however for me to be able to really enjoy myself, I needed to have a much more practical kitchen design and a huge fridge.
Kitchen Renovations In Perth
When my sister built a new house with an amazing kitchen, I was blown away at just how easy life can be, with a smart kitchen floor plan and plenty of space for a large fridge.
Not only did she have this gorgeous kitchen with awesome cabinets and benchtops, but there was a place for everything. Her benchtops for clear of clutter, except for the vase of orchids and our wine glasses.
I could feel the green eyed monster coming out, and I knew then that I needed to get my Mojo back for entertaining. That was the answer, I am having a makeover, well not me, my kitchen!
So if any of this rings true with you, why wait?
For the most experienced high end kitchen renovations, kitchen designers and kitchen manufactures in WA, Flexi are the team to call.
They make it so easy for you, from the time they come to your home for your free professional consultation, measure and quote, until your stunning new kitchen is installed on the due date, the Flexi team will ensure that your kitchen renovation is a smooth and stress free process.
A new kitchen design is a big decision. Visit one of the Flexi kitchen showrooms and see what a finished Flexi kitchen design looks and feels like. Flexi have showrooms north and south of the river specifically to help you with your kitchen renovations.
Talk to the teams in the Myaree showroom or the Joondalup showroom or call them today on (08) 9301 4200 and arrange for one of their experienced kitchen designers to come to your home.
October 12, 2018