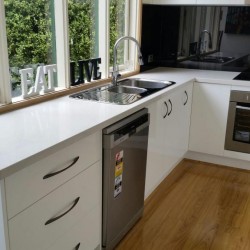 Deciding to embark on the major project that is Perth kitchen renovations can be daunting.
With so many companies in Perth offering so many design choices in kitchens how do you know where to start, what will happen and how the end result will turn out?
If you follow our quick steps and easy steps, you'll be sure to have your dream kitchen in no time!
Plan Perth Kitchen Renovations Including Every Detail
Think about your current kitchen design in terms of pros and cons writing down what currently works well for you and what you would change.
Detail what you would like to include in your new kitchen.
Perhaps you've always wanted a breakfast bar or a scullery.
Maybe you entertain your family and friends a lot and love the idea of having a specific bar area to mix drinks.
Similarly, it's important to decide whether you're going to keep your current kitchen layout or if you're going to completely rearrange the floor plan.
Realistic Perth Kitchen Renovations
When you are on a small budget, you might find that marble bench tops, vinyl wrap doors and a butler's pantry may be out of reach.
As a general rule, a full kitchen renovation can cost between 5-10% of your home's value.
If you have a specific budget in mind for your renovations, speak to your kitchen designer about this so that they can help you select designs and materials that will reflect your budget.
In saying that, a beautifully functional and quality constructed kitchen can significantly increase your home's value so try to see it as an investment for the future.
Think about the smaller details when undergoing your renovation.
Task lighting above the bench tops is a great idea as you will be doing most of your food preparation.
Remember to allow space for a bin, and try to position this within easy reach.
Make sure you have enough drawers for your cutlery and utensils.
All of these are essential items to consider to ensure that your renovation will be a worthwhile investment to stand the test of time.
Flexi Perth Kitchen Renovations
Flexi's Kitchen designers and renovation experts have a wealth of industry experience and are able to guide you through the processes of your kitchen renovation, as well as provide design advice on important aspects such as what materials to use and the positioning of fixtures and appliances.
Flexi also only use licensed tradespeople to undertake all aspects of the building services required when undertaking your project.
Each of our Flexi kitchens is assigned a Project Manager to oversee the renovation from start to finish.
If you'd like to discuss your kitchen renovation with one of Flexi's qualified kitchen designers, call us today on 9301 4200 or pop into one of our state of the art showrooms in Myaree or Joondalup.
May 3, 2017