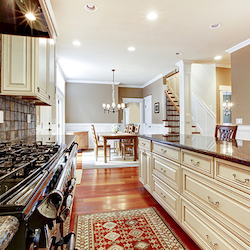 When you find that your kitchen is no longer working well for you, then it may be time to update with Kitchens Perth.
As our families grow and our lifestyles become busier, it is understandable that our needs in a kitchen design will change.
As it is getting close to that time of year again, we start to think about Christmas and whose house will be chosen this year to host the "hordes" for Christmas lunch, we will become aware of what is not working well for us in our kitchen.
Oh dear, and if it is your turn, how many people will be arriving to "eat you out of house and home"?
There is no doubt about it that this can be a very stressful time of the year, with presents to buy, menus to decide on and what to do about that awful trifle that your dear old great grandmother always brings with her.
Of course the guest list seems to grow longer as each year passes, when the kiddies become teens and insist that their very cool vegan partners should be invited, then don't forget that old Uncle What's-is-name is bringing his new wife and her three kids all the way from Woop Woop and they'll be staying the night to avoid drink driving!
Just thinking about it is enough to give anyone a headache.
Start Now With Flexi Kitchens Perth
If you have been feeling crowded in your kitchen for some time now, and your bench space is covered with appliances such as the microwave oven, crock pot, food blender, kettle, toaster and coffee maker, you definitely are due for a serious kitchen makeover.
Some of the problems stem from not having a decent kitchen where food preparation for large groups is practical, this is something that can be dealt with easily by way of a phone call to Flexi Kitchens in Perth.
You will be surprised at what can be achieved in creating clever and practical kitchen design ideas that will give you so much more useable bench space and storage options which will make working in your new kitchen, an absolute dream.
The team at Flexi Kitchens in Perth have been custom designing the most beautiful and functional kitchens in Perth for many years and have a well deserved reputation for outstanding kitchen design, kitchen renovation, premium quality products, respectful care taken when in your home and excellent customer service, both before and after your kitchen renovation.
The friendly staff here at Flexi will be happy to arrange for a free in home consultation where you can discuss your needs with a professional who has ample experience with designing kitchens to incorporate every bit of available space to ensure you have maximum work space and kitchen storage solutions.
No Fuss From Wo To Go
Once you have decided on your colour scheme and cabinetry design, you can pretty much just sit back and let the team from Flexi do what they do best.
They, measure, custom design, create, install and keep you informed all the way through the project.
It really is that easy, give yourself a xmas treat, a gorgeous new kitchen to help you get through lunch on christmas day, mind you, you still need to deal with your great grandmother's soggy trifle!
Contact Flexi on 08 9301 4200 to arrange your free home consultation.
October 25, 2017