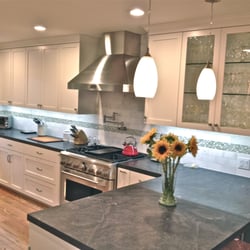 I think most people in Perth can agree that they are sick of the cold and ready for summer!  With its sunny skies, cool sea breezes and balmy evenings, summer is the perfect time for entertaining!  And in most Perth homes, the kitchen is the heart of entertaining! Today more and more families and friends spend time cooking and entertaining at home, around the kitchen preferring the personal touch over going out to a restaurant.  And with summer around the corner, the festive season will soon be upon us with Christmas and New Years on our doorstep before we know it!
So if anyone is thinking about getting a new kitchen or renovating an old kitchen, they must remember to consider their entertaining needs.  Here are a few tips for creating a kitchen design that will help you entertain from home this summer!
Include a large island
A large kitchen island is a perfect place for guests to gather around and make conversation.  They can even chip in and help with the cooking, or sip on a glass of wine while the host prepares the meal in the kitchen.  This allows the host to show off their cooking skills while still being a part of the party and not locked away in the kitchen on their own!  If kitchen space permits, why not include two kitchen islands: one as a working island as another as a sitting and earning island.
Make sure you have a large fridge
Everyone wants a big fridge in the kitchen…. In fact is there ever a fridge that is TOO big?  One of the biggest problems people face is not having a big enough fridge recess in their kitchen.   So for the perfect kitchen for entertaining, make sure a big fridge recess is included in the kitchen design.
Keep the kitchen open planned
An open planned kitchen design is a must for creating a kitchen ideal for entertaining.   Open planned kitchen designs allow guests to easily meander into the kitchen from the entertaining area.  Open planned kitchens are also open and spacious allowing more people to gather and socialise comfortably.
Allow for plenty of seating
If you want your guests to gather in the kitchen while you cook, you need to include plenty of seating in your kitchen.  Seating can include bar stools around the kitchen island or if there is space, a kitchen table with chairs can be included in the kitchen.  The more comfortable the kitchen, the more inviting it will be for guests to gather around the kitchen and socialise.
Contact the team at Flexi Kitchens in Perth to find out more about their beautiful custom designed kitchens.  There can create amazing kitchens that are perfect for entertaining this summer.  Call Flexi Kitchens in Perth today.
August 7, 2018